Jim Jarmusch's Only Lovers Left Alive and Andrzej Wajda's Walesa: A Man Of Hope will open this year's ¨Febiofest¨.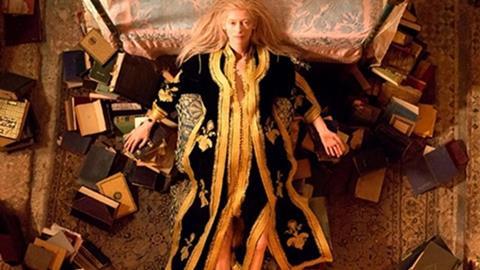 The Prague International Film Festival (March 20-28) will present 141 films from 60 countries in 18 different sections.
Special tributes are being dedicated to the Finnish actress Kati Outinen, French animator Sylvain Chomet, Slovak actress Barbora Bobulová, Italian director Gianni Amelio and Ivory Coast-born actor Isaach de Bankolé.
De Bankolé, who first came to prominence in the French film industry with his role in Black Mic Mac, will present his two newest films, Mother Of August and Chaos, in Prague and will receive the Kristian Award for his Contribution to World Cinema.
Febiofest's New Europe Competition open to first and second feature films will have such films as Wolfskinder, My Nephew, The Idiot, Life Feels Good, Puppy Love, The Machine and Rock The Casbah competing for the €10,000 Grand Prix, including a €5,000 premium for a potential Czech distributor.
Sidebars dedicated to North American, Asian and Latin American film-makers will be joined this year by a new section, Northern Lights, focused on the cinema of Northern Europe, including Finland and the Baltic States, and a showcase of co-productions between the Czech Republic and other countries, such as the Finnish-Czech comedy April Fools, starring Kati Outinen, Peter Kerekes' documentary Velvet Terrorists, and Anca Damian's Romanian-Swedish-UK-Czech co-production A Very Unsettled Summer.
In addition, the sidebar entitled The Rhythms of Balkans will have a tribute to the Serbian film-maker Srdan Golubovic (Absolute Hundred, Circles) as well as screenings of Wolf, A Japanese Dog and The Priest's Children.
New Swiss festival bows
The same week as Prague will see a new event appearing on the Swiss festival scene, the Saas-Fee Filmfest (March 19-23) - dedicated to young cinema from Switzerland, Germany, Austria, France and Italy
The first edition will open with Roberto Andiò's Viva la Libertà and be followed in the next three days by such films as Jakob Lass' Love Steaks, Dominik Locher's Tempo Girl, Ivana Lalovic's Sitting Next To Zoe and Frauke Finsterwalder's Finsterworld in the competition of nine titles.
"The films in our competition explore new ways," said programme director Stefan Fichtner. "Some revive a forgotten piece of film history; in some, their unconventional way of production leaves its traces in the form and content.. Reality and fiction often go hand-in-hand, imitating one another and making for exciting discoveries."
The Alpine resort of Saas-Fee came to international attention in 1984 when it served as the snowy setting for Wham's music video for their evergreen hit Last Christmas.