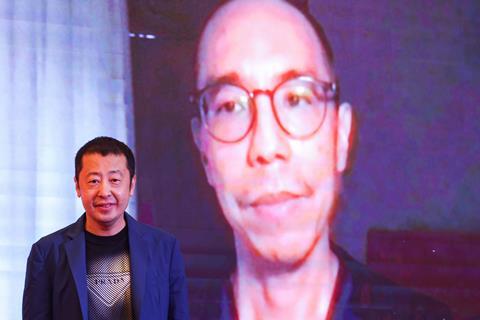 The Palme d'Or-winning Thai filmmaker Apichatpong Weerasethakul gave an online masterclass for a live audience at the Shanghai International Film Festival (SIFF) this weekend. It was staged as an in-conversation with Chinese director Jia Zhangke who attended the event in person.
The two filmmakers belong to the same generation as they were both born in 1970, and have often met up over the years at film festivals.
They continued to do so virtually during the pandemic. Last April when he was quarantined in Beijing, Jia wrote an open letter after travelling back from the Berlinale. Apichatpong was touched and responded with another letter from his home in Chiang Mai.
Jia is a co-producer on Weerasethakul's new feature Memoria, which is making its world premiere in competition at Cannes next month. It is the first time the two filmmakers have worked together.
"I feel very happy that my name, my company's name [Xstream Pictures] and [co-producer] iQiyi's name can appear in an Apichatpong film," said Jia during the SIFF forum.
At first, Apichatpong admits he felt nervous about working with Jia, saying he felt, "I must do a good job or else it would be too embarrassing. The collaboration turned out to be very pleasant. Most importantly, Jia would keep to his role as a producer and give me freedom and respect without any interference."
The pair discussed how their respective backgrounds influenced their creativity. Apichatpong grew up in northeast Thailand where his parents worked as doctors. His family lived in a hospital, which became his playground, and explains why he feels strongly about hospitals, he said.
Jia is a native of Fenyang, a town located in northwest China's Shanxi province, which provides the setting and inspiration for most of his films starting from his 1997 debut feature Xiao Wu. He studied art at Shanxi University before entering the Beijing Film Academy, while Apichatpong studied architecture at the local Khon Kaen University before pursuing an MFA at the School of the Art Institute of Chicago.
As well as directing feature films, Apichatpong is also a video installation artist. "Both film and contemporary art belong to the same creative world. Both are a form of expressions of my thinking. A bigger team is needed for film, but it's just me for a contemporary art project, which gives me a lot more freedom," he said.
Jia has been inspired by his friend to follow suit. In 2017, he opened an arts centre in Fenyang, followed by his first art show last year.
"I took this from Apichatpong," said Jia. "Film production has a long lead time, easily a couple of years for an idea to materialise. But there are a lot of things we want to say in our everyday life. My focus was more on photography in the past. I started video installations lately and a new installation of mine is now being exhibited in Amsterdam. Installations and film go well together."
When asked by an audience member whether his role would be different in the upcoming Pingyao International Film Festival (PYIFF), where it was recently announced he would return for the fifth edition, Jia said, "I'm also a director and I miss making films. We have decided to go ahead [with the festival] this year because we can't find the right people in a short period of time. If we can't find a good team, we will continue to do it, like looking after our own child until it becomes strong."
Jia made a surprise exit last year from PYIFF, which he co-founded in 2017. He added that he will also teach at the new Shanxi Film Academy in September.
Apichatpong flew to France on Sunday (June 13) so that he can be in Cannes for the world premiere of Memoria. He is also one of the seven directors of omnibus film The Year Of The Everlasting Storm, which will get a special screening.
The Thai director has embraced a slower life thanks to the pandemic, spending quality time with his dogs at home, but now he is feeling anxious about seeing people again.
"I'm an introvert. I saw no one in two years. I have to learn how to interact with people again," he said. "I have to go to France to present my new film Memoria. I can only start my next film if it is well received. I love my dogs, but I love film more."