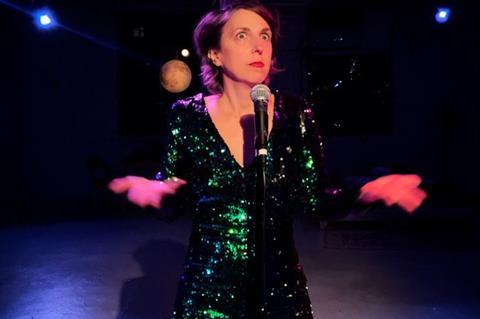 The world premiere of Andrea Kleine's The End Is Not What I Thought It Would Be, is among the international films making their debut at the Ji.hlava International Documentary Film Festival running from October 25-30 in the Czech Republic,
The film features Kleine performing comedy shows to a closed theatre in New York City during the pandemic.
Held in the town of Jihlava in central Czech Republic, the festival has seven competition sections, including Opus Bonum, for documentary films from around the world.
The section will play 16 films of which 13 are feature-length, and eight are world premieres.
The winning film in this section will receive $10,000, with the best Central or Eastern European film receiving €3,000.
The Czech Joy strand includes 21 titles, of which 16 are feature-length and 14 are world premieres, with $7,133 awarded to the winning film.
The festival will host a focus on Filipino cinema titled 'Transparent Landscape: the Philippines', which it claims is the largest ever retrospective on Filipino cinema outside of Asia with 40 titles.
Industry appeal
For attending industry, Ji.hlava will run its Inspiration Forum, with five days of discussions on freedom, degrowth, digital technologies, the war in Ukraine, and a debate on the Czech presidential candidates ahead of the election in January 2023.
Further retrospectives include the films of US directors Lionel Rogosin and Shirley Clarke; while the festival will host its first annual conference on ethics, which will focus on 'power relations in documentary filmmaking'.
In its Constellations strand for documentaries from the last year of the film festival circuit, the festival will also screen Rimini and Sparta, the two latest films by Austrian filmmaker Ulrich Seidl. Seidl was recently accused of failing to protect child actors on the set of Sparta by a report in German magazine Der Spiegel. Seidl denies the accusations.
"These situations are unacceptable to us and it's good that they are also covered by the media," said festival director Marek Hovorka. "However, we decided to screen the film because Ji.hlava has already shown Ulrich Seidl's films known for their controversy in the past and the director himself held a masterclass at the festival years ago. We don't want to be hypocritical, but to create an opportunity to watch the film and continue the discussion about the ethical responsibility of filmmakers. After all, this is far from the only such case in the film world, and a wider discussion and societal demands in particular can change entrenched stereotypes."