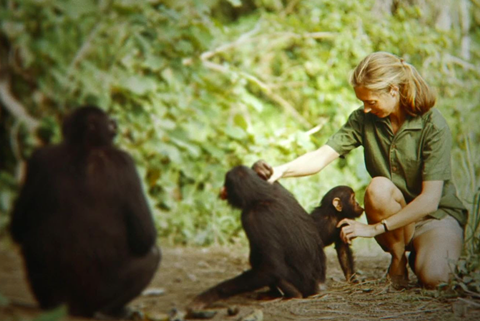 The Film Society of Lincoln Center has announced the complete line-up for The Spotlight On Documentary section of the 55th Annual New York Film Festival (NYFF), which runs from September 28-October 15.
The selections include, among others, chronicles of prestigious writers and work by filmmakers related to their subject. The world premiere of Griffin Dunne's Joan Didion: The Center Will Not Hold (USA) presents a distillation of the tumultuous life of the celebrated novelist and literary journalist. The film is one of two Netflix originals alongside Voyeur by Myles Kane and Josh Koury.
Also making its world premiere at NYFF is No Stone Unturned (Northern Ireland-USA), the prolific Alex Gibney's account of the Loughinisland pub massacre in Northern Ireland in 1994. Tony Zierra's Filmworker (USA) centres on Leon Vitali, the British actor who devoted his entire life to being Stanley Kubrick's right-hand man, while Brett Morgen's Jane (pictured) presents recently discovered archival footage of Jane Goodall's first contact with the chimpanzee population in Gombe Stream National Park near Lake Tangyanika in 1960.
The Venerable W. finds Barbet Schroeder examining the contradictory nature of a Buddhist monk enacting genocide on Muslims in his native Myanmar. Writer-director Rebecca Miller turns to the non-fiction format in the HBO Documentary Films selection Arthur Miller: Writer (USA) and captures an intimate home portrait of her iconic playwright father.
The roster includes: BOOM FOR REAL: The Late Teenage Years Of Jean-Michel Basquiat (USA, US premiere) directed by Sara Driver; Alison McAlpine's Cielo (Chile-Canada, world premiere); Did You Wonder Who Fired The Gun? (USA), directed by Travis Wilkerson; El Mar La Mar (USA), directed by Joshua Bonnetta and J.P. Sniadecki; and Ena and Ines Talakic's Hall Of Mirrors (USA, world premiere).
Also in selection are: Abel Ferrara's Piazza Vittorio (USA-Italy, North American premiere); The Rape of Recy Taylor (USA, North American premiere), directed by Nancy Buirski; Vanessa Redgrave's Sea Sorrow (UK); A Skin So Soft (France-Canada-Switzerland, US premiere), directed by Denis Cote; Speak Up (France, North American premiere), directed by Stephane De Freitas and co-directed by Ladj Ly; and Three Music Films (France) by Mathieu Amalric.
For further details click here.