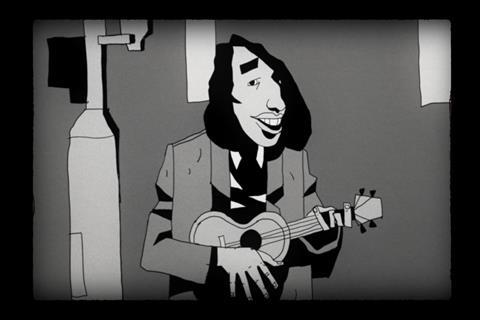 Juno Films has announced its second acquisition of a Fantasia selection, pouncing on all North America rights to Stockholm-based Momento Film's documentary Tiny Tim – King For A Day.
Johan von Sydow's film charts the career of the fortysomething vaudeville entertainer with the ukulele and falsetto voice who rose to brief fame in the late 1960s before it all came crashing down.
Inspired by Justin Martell's biography Eternal Troubadour: The Improbable Life Of Tiny Tim, the film recreates Tiny Tim's life as read by "Weird Al" Yankovic from the subject's diaries.
The story recounts Tiny Tim's early years growing up in a dysfunctional family in New York, and his early career playing dive bars and lesbian cabaret on the Greenwich Village scene.
After a recording contract with Frank Sinatra's Reprise label and an appearance on NBC's Laugh-In catapaulted him to fame and fortune, Tiny Tim's life came crashing down until he met his third wife, Miss Sue.
For the first time Miss Sue talks about Tiny Tim, who died in 1996, and the film includes testimony from friends such as Wavy Gravy and Jonas Mekas.
The film premiered at the virtual Fantasia International Film Festival this month and is scheduled for a theatrical premiere in late autumn at the Quad Cinema in New York and the NuArt in Los Angeles, followed by a national roll-out.
David Herdies and Michael Krotkiewski served as producers, and Martell and Juno Films CEO and co-founder Elizabeth Sheldon are executive producers. Juno boarded the film early after Sheldon negotiated rights with Momento Film's Herdies.
Earlier this week Juno announced its acquisition of Fantasia selection Morgana.
The distributor's titles include What She Said: The Art Of Pauline Kael, Barbara Rubin And The Exploding New York Underground and the upcoming feature Radium Girls.