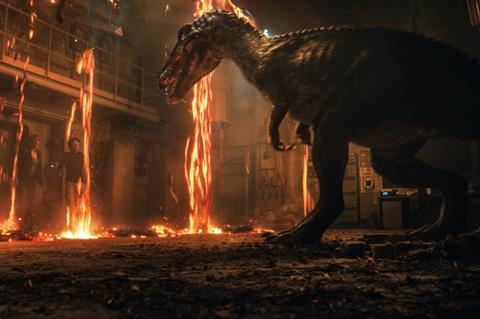 Incredibles 2 debuts in China and Ocean's 8 arrives in the UK, Germany and Russia, yet it is hard to see anything beating Jurassic World: Fallen Kingdom in its third weekend.
The dinosaurs have stormed to $447.8m through Universal Pictures International and charge into a further 17 markets as well as North America this weekend.
China had generated $170m through Thursday (June 21) and Jurassic World: Fallen Kingdom should play strongly through the second weekend to drive the tentpole well past the $550m international mark.
There are also debuts in Australia, Mexico, Brazil, Argentina, Colombia, and Venezuela, among others. Australia have played their second World Cup game, and Mexico, Brazil and Colombia will all be in action this weekend and are sure to distract local audiences.
Blumhouse's supernatural thriller Truth Or Dare has reached more than $48m and debuts in Italy, while Jason Reitman's Tully starring Charlize Theron as an overwhelmed new mother opens in Spain.
Pixar's Incredibles 2 has wasted little time reaching $75.1m through Walt Disney Studios Motion Pictures International and executives will be hoping for strong holds and solid results from a handful of new markets including China.
The Incredibles grossed less than $3m in China after it opened in January 2005, however the market has evolved and in recent years Pixar releases have generated solid results – at least by the standards of most top international markets – with one spectacular exception.
Coco coaxed $189.2m out of Chinese audiences when it debuted in late 2017. Over the last couple of years Cars 3 and Finding Dory managed $20.8m and 38.1m, respectively. If the film pops in China, it could overtake Fallen Kingdom for the weekend crown, but at time of writing the odds appeared in the favour of the dinosaurs. Incredibles 2 also arrives in India, Thailand, Croatia and Iceland. The worldwide haul is $328.2m.
Marvel Studios' Avengers: Infinity War stands at $1.359bn, while Lucasfilm's Solo: A Star Wars Story has managed a disappointing $148.5m.
Warner Bros Pictures International's Ocean's 8 stands at $46.5m and is expected to do well in the UK and Germany, although business will take a hit as both the English and German national sides are in action in Russia this weekend. The crime caper also arrives in Russia, where the World Cup hosts are training for their final first round match on Monday.
Melissa McCarthy comedy Life Of The Party stands at $9.9m, Dwayne Johnson action tentpole Rampage $326m, and the new ensemble comedy Tag $2m.
Fox International's Deadpool 2 will cross $400m this weekend and as of Wednesday stood at $395.6m with no new territories this weekend.
The rom-com Love, Simon on $18.8m gets a push across Europe and opens in Spain, Belgium, Portugal, and Denmark, among others. Wes Anderson's Isle Of Dogs on $30.5m opens in South Korea and South Africa, while the relationship drama On Chesil Beach debuts in Germany.
Paramount Pictures International executives report that Sherlock Gnomes has grossed $43.7m, and A Quiet Place $140.1m.