Seven world premieres and five international premieres include an animated movie for the first time in competition; US drama Low Down starring John Hawkes and Elle Fanning; and Hafsteinn Gunnar Sigurdsson's follow-up to Either Way.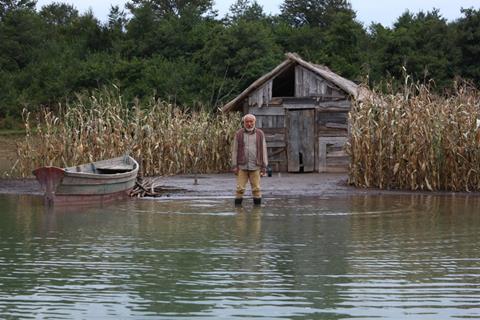 The 49th Karlovy Vary International Film Festival (July 4-12) has revealed the line-ups for its Official Selection Competition, East of the West Competition, Documentary Films Competition and Forum of Independents Competition.
KV artistic director Karel Och said: "This year's selection of competing films offers an exciting mixture of outstanding films whose completion has been eagerly anticipated.
"Many of the filmmakers, who explore less frequently trodden paths of cinematic expression, come from the countries of the former Eastern Bloc, which the KVIFF has long focused on."
In the main festival section, renowned Georgian filmmaker George Ovashvili (The Other Bank) will introduce his long-anticipated film Corn Island, a psychological drama that uses captivating imagery and visuals to present a highly topical subject – the intense relationship between man and nature.
Leading Russian director Angelina Nikonova (Twilight Portrait) has chosen the festival for the premiere of her bitter comedy Welkome Home, set among the immigrant community in contemporary New York.
Hungarian director György Pálfi comes to KV with Free Fall, a grotesque look at contemporary society. Through seven stories, Pálfi presents a report on the state of humanity using his provocative imagination.
Intimate drama I'm Yours was filmed by Belgian director David Lambert, whose previous film Beyond the Walls was shown two years ago at Cannes' Critics' Week. I'm Yours depicts the difficult road to emotional fulfillment through the story of a young Argentine man's unlikely relationship with an aging Belgian baker.
Miroslav Krobot, theatre artist and the only Czech actor to have appeared in films presented in Cannes, Berlin and Venice, will introduce his directorial debut Nowhere in Moravia. In this laconic rural drama with elements of dark comedy, Krobot channels Kaurismäki and the Mrštík brothers, with some of the Czech Republic's best actors, led by Tatiana Vilhelmová, Ivan Trojan and Jaroslav Plesl.
The first animated film to be shown in competition at KVIFF is Rocks in My Pockets from New York-based Latvian filmmaker Signe Baumane. This "funny film about depression" describes the mental illness that afflicted her family for decades. The film also offers a look at the history of Latvia during the first half of the 20th century.
The third woman to be represented in the main competition is Czech screenwriter and director Andrea Sedláčková with her film Fair Play. This intimate drama about trying to preserve human dignity in the face of state-organized doping during the totalitarian 1980s focuses on talented young athlete Anna (Judit Bárdos) and her mother (Anna Geislerová).
This year's representation of countries east of the Czech Republic also features renowned Kazakh filmmaker Nariman Turebayev with Adventure, a loose adaptation of Dostoyevsky's White Nights. The contemporary tale of lonely Marat's fascination for the complex Mariyam was shot on the streets of Almaty.
Icelandic filmmaker Hafsteinn Gunnar Sigurdsson returns with his second feature, Paris of the North. It centres on a teacher who has managed to overcome his problems with alcohol, his frivolous rocker father, and the other inhabitants of an out-of-the-way village think about nothing less than what to do with their lives. Either Way screened at more than 50 festivals and was remade in the US as Prince Avalanche by David Gordon Green.
In the melancholic US drama Low Down, director Jeff Preiss presents the bohemian scene of 1970s Los Angeles, as well as the talent and self-destructive heroin-addiction of famed jazz pianist Joe Albany (John Hawkes), seen through the eyes of his daughter Amy-Jo (Elle Fanning).
In his second film, La Tirisia, Mexican director Jorge Pérez Solano presents the story of Cheba and Angeles Miguel, two women who are pregnant by the same man. They live in a small isolated village, and their attempts at leading a modest but dignified life are constantly attacked by a strange illness of the soul, "la tirisia".
France's Pascal Rabaté, winner of the Best Director Award at the 2011 KVIFF for Holidays by the Sea, returns in competition with the stylized and ironic morality tale Patchwork Family, in which hardened cynic Christian is punished for the swindles he perpetrated in a manner not unlike the medieval punishment referred to in the film's original title (Tar and Feathers).
Other Competitions
The world premiere of Virag Zomboracz's Afterlife will open the East of the West competition. The Hungarian film combines humour and high drama as a man begins to see the ghost of his recently-deceased father.
East of the West features first or second features by directors from Central and Eastern Europe, the Balkans, Turkey, or the former Soviet Union. It boasts nine world premieres and three international premieres this year.
KVIFF's Documentary Films competition comprises four world premieres, six international premieres and one European premiere. World premieres include Comback, from Slovak director Miro Remo, about two institutionalised prisoners; and Lean a Ladder Against Heaven, from Czech director Jana Sevcikova, about a good samaritan.
The other two world premieres are The Term, from directors Pavel Kostomarov, Alexander Rastorguyev and Alexey Pivovarov, about the political opposition to Russia's Kremlin; and Tuning: K oblakům vzhlížíme, from Czech director Martin Dusek, a nontraditional portrait of a day in the life of a man whose car has become his best friend.
KVIFF's Forum of Independents competition will open with Czech-Burmese film The Monk. The debut of upcoming Burmese filmmaker The Maw Naing, it follows Zawana, who enters a monastery and has to take up an unexpected challenge when the superior falls ill.
The section will include six world premieres, three international premieres and two European premieres.
KVIFF will all also world premiere two new Czech films out of competition in the main programme: director Rudolf Havlík's debut feature and travelogue Say Forever; and Olga Sommerová's feature-length documentary The Magical Voice of a Rebel about singer Marta Kubišová.
OFFICIAL SELECTION – COMPETITION
WP = World Premiere / IP = International Premiere
Adventure WP
Nariman Turebayev (Kazakhstan, France)
Dira u Hanusovic (Nowhere in Moravia) WP
Miroslav Krobot (Czech Republic)
Du goudron et des plumes (Patchwork Family) WP
Pascal Rabate (France)
Fair Play IP
Andrea Sedlackova (Czech Republic, Slovak Republic, Germany)
Je suis a toi (I'm Yours) WP
David Lambert (Belgium)
Low Down IP
Jeff Preiss (US)
Paris of the North WP
Hafsteinn Gunnar Sigurdsson (Iceland)
Rocks in My Pockets WP
Signe Baumane (U.S., Latvia)
Simindis kundzuli (Corn Island) WP
George Ovashvili (Georgia, Germany, France, Czech Republic, Kazakhstan)
Szabadeses (Free Fall) IP
Gyorgy Palfi (Hungary, France, South Korea)
La tirisia (Perpetual Sadness) IP
Jorge Perez Solano (Mexico)
Welkome Home IP
Angelina Nikonova (Russia)
EAST OF THE WEST – COMPETITION
Axınla Asagı (Down the River) WP
Asif Rustamov (Azerbaijan) World premiere
Bota WP
Iris Elezi, Thomas Logoreci (Albania, Italy)
Drevo (The Tree) WP
Sonja Prosenc (Slovenia)
Kebab & Horoscope WP
Grzegorz Jaroszuk (Poland)
Kirsitubakas (Cherry Tobacco) WP
Andres Maimik, Katrin Maimik (Estonia)
Klass korrekcii (Corrections Class) IP
Ivan Tverdovsky (Russia, Germany)
Norviyia (Norway) WP
Yannis Veslemes (Greece)
Rozkos (Delight) IP
Jitka Rudolfova (Czech Republic)
Spomenik Majklu Dzeksonu (Monument to Michael Jackson) IP
Darko Lungulov (Serbia, Germany, Macedonia, Croatia)
Utoelet (Afterlife) WP
Virag Zomboracz (Hungary)
VAN valami furcsa es megmagyarazhatatlan (For Some Inexplicable Reason) WP
Gabor Reisz (Hungary)
Varvari (Barbarians) WP
Ivan Ikic (Serbia, Montenegro, Slovenia)
DOCUMENTARY FILMS – COMPETITION
Autofocus
Boris Poljak (Croatia)
Comeback WP
Miro Remo (Slovak Republic)
Fishtail IP
Andrew Renzi (USA)
Istanbul United IP
Farid Eslam, Olli Waldhauer (Germany, Czech Republic, Turkey)
Le mur et l'eau (The Water and the Well) IP
Alice Fargier (Switzerland)
Opri zebrik o nebe (Lean a Ladder against Heaven) WP
Jana Sevcikova (Czech Republic)
La Reina (The Queen)
Manuel Abramovich (Argentina)
Sitzfleisch (Steadiness)
Lisa Weber (Austria)
Solitary Plains EP
J Christian Jensen (USA)
Srok (The Term) WP
Pavel Kostomarov, Alexander Rastorguyev, Alexey Pivovarov (Russia, Estonia)
Tal R: The Virgin IP
Daniel Dencik (Denmark, Germany)
El tiempo nublado (Cloudy Times) IP
Arami Ullon (Switzerland, Paraguay)
Il treno va a Mosca (The Train to Moscow: A Journey to Utopia) IP
Federico Ferrone, Michele Manzolini (Italy, United Kingdom)
Tuning: K oblakum vzhlizime WP
Martin Dusek (Czech Republic)
Waiting for August
Teodora Ana Mihai (Belgium)
Wild Zwijn (Wild Boar)
Willem Baptist (Netherlands)
FORUM OF INDEPENDENTS COMPETITION - COMPETITION
Anderswo (Anywhere Else) EP
Ester Amrami (Germany)
Haneul e hwanggeummacha (Golden Chariot in the Sky) WP
O Muel (South Korea)
Little Accidents IP
Sara Colangelo (USA)
Memphis
Tim Sutton (USA)
La mezza stagione (Late Season) WP
Danilo Caputo (Italy, Romania, Greece)
Mnich (A Monk) WP
Maw Naing Aung (Barma, Czech Republic)
On a le temps (We've Got Time) WP
Abdolreza Kahani (France)
Paradne pokecal (Totally Talking) WP
Tomas Pavlicek (Czech Republic)
Rocket Rain IP
Anggun Priambodo (Indonesia)
Ruido rosa (Pink Noise) EP
Roberto Flores (Colombia)
Sixteen IP
Rob Brown (United Kingdom)
Violent WP
Andrew Huculiak (Canada)