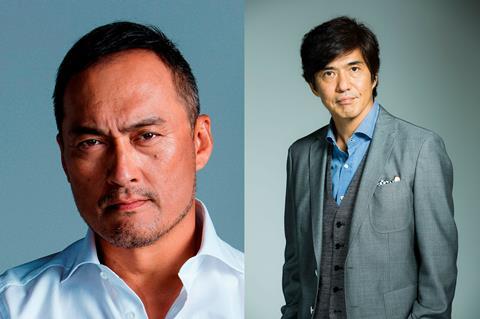 Ken Watanabe and Koichi Sato will star in Fukushima 50, Kadokawa Corporation's upcoming action drama about the 2011 meltdown of Japan's Fukushima Daiichi nuclear power plant and the on-site workers who raced to contain the catastrophe.
Setsuro Wakamatsu (The Unbroken, Whiteout) will direct the film and principal photography is scheduled to begin in Japan this month ahead of a 2020 release. Fukushima 50 is based on Ryusho Kadota's book On The Brink: The Inside Story Of Fukushima Daiichi, which recounts the aftermath of the Great East Japan earthquake, the tsunami, and ensuing meltdowns at the Fukushima Daiichi nuclear power plant.
The story follows 50 employees including shift supervisor Isaki (Sato) and site superintendent Yoshida (Watanabe), who risked their lives by staying at the plant to minimise the devastation by preventing the total destruction of the overheating reactors. Yoichi Maekawa (Gunji Kanbei, Shûhei Nozaki, The Audito) adapted the screenplay.
"The Fukushima accident shook not only the people of Japan but also around the world," said Wakamatsu. "This film is about the power plant workers on the front line who faced an unprecedented crisis and risked their lives to save their families, their hometown and avert a disaster of global magnitude."
Producers rep Tsuguhiko Kadokowa added: "Almost seven years have passed since the Tohoku earthquake rocked Japan. This the untold story of the anonymous heroes is who didn't appear in the news, but as Japanese civilians, we should be proud of them and recognise them for their bravery. Human beings are powerless in the face of natural disasters and nothing could have protected the plant against the earthquake and tsunami, so what they achieved was extraordinary. We at Kadokawa are proud to have assembled the best creative team in acclaimed director Setsuro Wakamatsu and his cast, including Koichi Sato and Ken Watanabe, to do justice to this most important of stories."
"In order to move forward, we have to learn to leave the past behind us, never give up trying and learn from our failings," said Sato, whose credits include Terminal, Whiteout, and Unforgiven and ill start work on his 106th film. "However, there are events in our past that we must never forget to ensure these situations never happen again. On March 11, 2011 the circumstances in Japan led to such tragedy and disaster. Alongside Mr. Wakamatsu and Mr. Watanabe, I hope by making this film will remind future generations of this event and the bravery of those who came to the rescue and risked their lives to protect their communities."
Watanabe added: "I had promised to Koichi, I would play any role in his next film. However, this was a challenging film to be a part of when the people of Fukushima are still suffering such loss and devastation. My hope is that along with the wonderful cast and Wakamatsu directing we will make a film that show the intensity and bravery of these people that prevented a tragedy of epic proportions."