EXCLUSIVE: Pilot for horror series being made for US network, according to actor.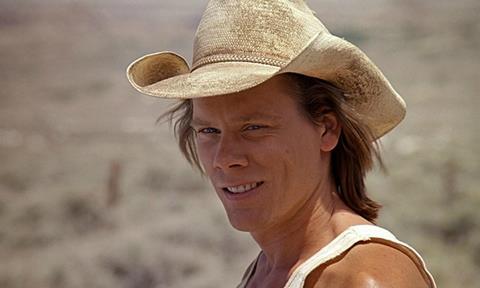 Kevin Bacon has revealed that the Tremors reboot which he is developing with Oscar-nominated Whiplash producer Jason Blum is set to be made with US broadcaster Syfy (formerly the Sci-Fi Channel).
"We are going to do a pilot for Syfy," the Footloose and Diner star told Screen while at the Edinburgh International Film Festival, where he was attending a screening of Story Of A Girl, in which he co-stars.
Bacon originally approached Blumhouse CEO Jason Blum, whose horror credits include Paranormal Activity and Insidious, with the idea of reviving cult comedy-horror Tremors as a feature film, but the project is now being developed as an eight-episode TV series, which Bacon will star in and produce.
He will again be playing Valentine McKee, the Nevada handyman who tussles with gigantic man-eating sandworms.
"It's the only character I've ever played that I was interested in exploring 25 years later," Bacon said. "It (Tremors) is a really good movie.
"I don't go back and watch my movies but because we were doing this one, I had to go back and look at it. It's just the idea of this loser who is living a very ordinary life and has an extraordinary experience with these monsters and becomes, for a moment, a hero."
The reboot will look at what happens to the character a quarter of a century on.
Tremors, released in 1990, flopped at the box office but then had an extraordinary after-life on home video. "It became a major, major title in rental and had this cult life," Bacon recalled.
The film has since achieved cult status, spawning a series of direct-to-video sequels (most recently Tremors 5: Bloodlines in 2015) and a spin-off TV series that was broadcast on the Sci-Fi Channel in 2003 but was cancelled after its first run.
Bacon hasn't appeared in any of the Tremors franchise entries since the original, "I was like - why would I make a sequel of a bomb? That makes no sense to me. I am not going to make another movie that's not going to do well at the box office. That is not a good career move."
However, he has now reconsidered that stance.
Bacon talks up TV
The famously prolific star recently starred in Amazon series I Love Dick and also featured in television crime drama series The Following for Fox. Looking forward, the actor says he is set to continue pursuing TV roles.
"It's the last five years. The writers went there [to television]. The writers said 'you know what, we're not being treated well on movies. You're getting people to re-write our stuff. We are second class citizens when we come to the set.'
"If I am a great writer and I have great ideas, why shouldn't I have some control over the way the product is (handled) rather than sit in my room and then send it (the script), and let actors, directors, producers and other writers re-write it."
In TV drama, Bacon continued, the writers are "the kings". "They run it. Directors are merely someone that's there to help the writers' voice get out there," he said.
As quality writers have moved into TV, actors have "followed them", Bacon added.
"Audiences are now used to more character development. They want to see Cersei Lannister (in Game Of Thrones) over numerous episodes, having different hair. They want to experience that. It has put a lot of pressure on filmmakers to be able to deliver character development in one hour and 45 minutes or two hours."
Bacon also paid tribute to Kyra Sedgwick (to whom he has been married since 1988) for her work on Story Of A Girl. "She's a fantastic director," he said. "She creates a space where the actors feel like their job has value, where they feel safe and where their choices are given importance."