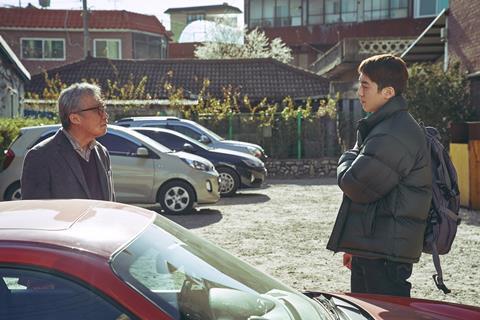 South Korea's Acemaker movieworks is launching sales ahead of the EFM on Remember, a Korean remake of Atom Egoyan's 2015 Nazi-hunter film that starred the late Christopher Plummer.
The thriller, in post-production, is directed by Lee Il-hyung, whose 2016 crime film A Violent Prosecutor recorded 9.7 million admissions and took $69.5m at the local box office. Leading cast members include Lee Sung-min (The Man Standing Next) and Nam Joo-hyuk (The Great Battle).
The story is set in Korea where a retired octogenarian soldier with dementia goes in search of vengeance against pro-Japanese collaborators, whom he believes were responsible for the deaths of his family during the occupation. When a young innocent man becomes unintentionally involved, he is suspected of murder and ends up accompanying the old man to try to stop the killing and prove his own innocence.
It is produced by Yoon Jong-bin's Moonlight Film, whose credits include A Violent Prosecutor, The Spy Gone North and Money. Egoyan's Remember premiered in Competition at Venice, where it won the Vittorio Veneto award.
'Dirty Money' deals
Financier, producer and distributor Acemaker has also closed pre-sales deals on crime film Dirty Money to a raft of territories, led by China (Youku) and Taiwan (MovieCloud). The film marks the feature debut of director Kim Min-soo and is produced by Leeyang Film (Rampant).
Starring Jung Woo (Best Friend) and Kim Dae-myung (The Drug King), Dirty Money is about two detectives who go on the run from the police and a Chinese gang after trying to steal a large shipment of cash.
Now in post-production, the film has also sold to Singapore, Thailand, Malaysia, Vietnam, Indonesia, Cambodia and Brunei (Clover Films) as well as Australia, New Zealand and Mongolia (Westec).
'Wonderland' wraps
Since launching its sales unit at the virtual Cannes market last June, Acemaker movieworks has also seen Kim Tae-yong's big-budget sci-fi drama Wonderland wrap its shoot and go into post-production.
The film's star-studded cast includes Choi Woo-shik from Parasite, Tang Wei from Lust, Caution, Jung Yu-mi and Gong Yoo from Train To Busan, Park Bo-gum from TV's Reply 1988 and K-pop star Bae Suzy. Budgeted at $12.6m (KW14bn), the film portrays a world where people can meet with AI versions of their deceased loved ones in virtual reality.