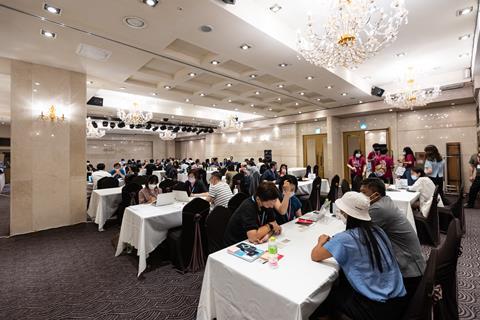 South Korea's Bucheon International Film Festival (Bifan), Asia's largest genre film festival, has revealed 29 titles from 18 countries for this year's Network of Asian Fantastic Films (NAFF) project market.
The 17 titles selected for the It Project strand include Biraa from Taiwanese writer/director Bhaskar Hazarika, whose transgressive love story Ravening played Tribeca in 2019.
Scroll down for full list
NAFF received 279 submissions from 40 countries, up nearly 30% from 217 projects in 2022. One-to-one meetings will take place with producers, investors, and distributors from June 30 to July 3.
This year, NAFF will expand its support for international projects by teaming with overseas film festivals and institutions such as Spain's Sitges Film Festival and Argentina's Blood Window as well as Japan's Visual Industry Promotion Organization (VIPO), Taiwan Creative Content Agency (TAICCA) and the Taipei Film Commission. Japan has been selected for this year's Projct Spotlight section
Previous NAFF projects include Malaysia's Tiger Stripes, which was an It Project in 2019 and last week won the grand prize of the Cannes Critics' Week sidebar. Two It Project titles from 2020 include In My Mother's Skin, which was invited to the Midnight Section of this year's Sundance, and Marry My Dead Body, which was released theatrically in Korea last May..
The 27th Bifan is set to run June 29 to July 9.
NAFF Project Market 2023
It Project
Angel Number (S Kor)
Dir. KIM Taekyung
Pro. Andy Yoon
Biraa (Tai)
Dir. Bhaskar Hazarika
Pro. Shyam Bora
Booked (Thai)
Dirs. Vutichai Wongnophadol, Lertsiri Boonmee
Pro. Sathanapong Limwongthong
Forte (S Kor)
Dir. SON Heuisong
Pros. KIM Kimbo, LEE Dajeong
The Grotesque Train (S Kor)
Dir. TAK Sewoong
Pro. KWON Jiyong
Idiot Girls And School Ghost (S Kor)
Dir. KIM Minha
Pro. PARK Sejoon
Lake Of Stars (Camb)
Dir. Jake Wachtel
Pros. Visal Sok, Mary Olsen
Maiden Home (S Kor-Indo)
Dir. SINN Kirin
Pros. Thim Kian Cheng, Saurav Ghimire, Grégoire Graesslin
Operation Undead (Thai-Sing)
Dir. Kongkiat Ng
Pros. Charlyn Ng, Piyaluck Mahatahasab
Out Of Nowhere (Tai)
Dir. LI Yuchiao
Pro. CHIANG Hui Lan
Parasomnia (Indo)
Dir. Rafki Hidayat
Pro. Kevin Rahardjo
The Passport (Malay)
Dir. Ananth Subramaniam
Pro. Bel Choo Mun
Please Bear With Me (Phil)
Dir. Gabriela Serrano
Pro. Gale Osorio, Keith Deligero
The Poison Cat (HK)
Dir. GUAN Tian
Pros. Vivian Bao, DING Ningyuan
Sesame Has Its Soul (Viet-S Kor)
Dir. Oscar Duong
Pro. Hang Trinh
The Shadows (Tai)
Dir. Lingo Hsieh
Pro. Jackol Kao
Show Me The Liver (S Kor)
Dir. KIM Jeongho
Pro. SON Seunghyeon
NAFF Project Spotlight: Japan
The Demon
Dir. WATANABE Hirobumi
Pro. WATANABE Yuji
Dulia
Dir. SAKUMA Keisuke
Pro. HAYASHI Kentaro
The Night Has A Thousand Eyes
Dir. TAKAHASI Hiroshi
Pro. FURUYAMA Tomomi
The Shadows In Tokyo
Dir. KUMAKIRI Kazuyoshi
Pro. MATSUDA Hiroko
A Woman In Flames
Dir. NAKAGAWA Natsuki
Pro. OGAWA Shinji
Nordic Genre Invasion
Highway Of Death (Nor-Fin)
Dir. Pål Øie
Pro. Einar Loftesnes
Kraken (Nor)
Dir. Pål Øie
Pros. John Einar Hagen, Einar Loftesnes
Mourning Time (Nor)
Dir. Saara Saarela
Pros. Mark Lwoff, Misha Jaari
Planet (Nor)
Dir. Fredrik S. Hana
Pro. Julia Joner
Blood Window
Plasma (Chile)
Dir. Daniel Aspillaga
Pro. Paulina Ferreti
Sitges FanPitch
Rain Catcher (Bel)
Dir. Michele Fiascaris
Pro. Filippo Polesel
Cannes Fantastic 7
The Fin (S Kor)
Dir. PARK Syeyoung
Pro. OH Heejung