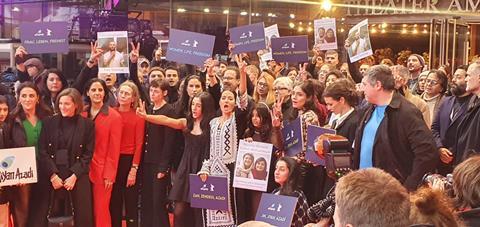 Kristen Stewart and her fellow Competition jurors were among around 100 people participating in a demonstration of solidarity with the women and people of Iran today at the Berlinale.
Despite persistent rain for much of the day, the demo went ahead at 14.55 today (February 18) on the red carpet in front of the Berlinale Palast. It began with a group of about 40 people, predominantly Iranian citizens, including Holy Spider actress Zar Amir Ebrahimi.

They were joined firstly by Berlinale co-directors Mariette Rissenbeek and Carlo Chatrian. Many attendees held signs with the slogan 'Zan, Zedegi, Azadi' which translates from Farsi as 'Women, Life, Freedom'.
There were also signs calling for the release of Iranian hip-hop artist Toomaj Salehi; and Niloofar Hamedi and Elaha Mohammadi, two women who are still being held in detention for their reporting on the death in custody of Mahsa Amini in September last year, news of which has sparked the current protest movement.
The majority of the Competition jurors then arrived, including Stewart, who stood alongside fellow juror, Iranian-French actress Golshifteh Farahani; the total number on the red carpet had risen to around 100 by then. Farahani gave an emotional speech at Thursday's opening ceremony in which she said "art… is like oxygen. Art and culture is a fire – we can all gather together and warm ourselves up."
Also present were filmmakers Valeska Grisebach, Carla Simon and Radu Jude, and casting director Francine Maisler.
The detention of Iranian citizens has been a prominent issue in the film industry in the past 12 months, with major directors including Jafar Panahi and Mohammad Rasoulof being held by the state; both have recently been released on a reportedly temporary basis.
Earlier today the Berlinale held a panel about 'The Role of Cinema and the Arts in the Iranian Revolution', with panelists including Ebrahimi and Sepideh Farsi, director of Iranian title The Siren which opened the Panorama strand on Thursday.
The Berlinale will also hold a show of solidarity with Ukraine on the Palast red carpet on Friday, February 24, marking one year to the day since the Russian invasion.