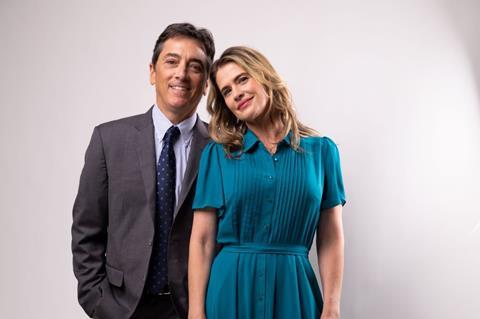 Pure Flix / Quality Flix sales head Ron Gell has started talks with AFM 2020 Online buyers this week on a slate of rom-coms staring Kristy Swanson, Lee Majors, and Scott Baio.
The sales agency known for working on faith-based titles has also announced a raft of sales on the new films and other titles.
Courting Mom & Dad features Swanson (Buffy The Vampire Slayer), Baio (Arrested Development, Happy Days), John Farley (Get Smart, The Waterboy), Vanessa Angel (Hall Pass, Weird Science), and Bailey Baio (See Dad Run, The Girls Next Door).
The story centres on three children who seek the help of an eccentric personal injury attorney to delay the divorce of their parents. As the children plan their wild schemes, their parents find themselves falling back in love.
Finding Love In Quarantine centres on a single father who reinvents himself when he loses his job in the pandemic and attracts an admirer.
David A.R. White (God's Not Dead franchise) Eva LaRue (CSI: Miami, RoboCop 3), Stacey Dash (First Lady, Clueless), Tom Arnold (True Lies,), and Majors (The Big Valley, Scrooged, The Six Million Dollar Man).
Love Is On The Air is in production and follows a desperate man who turns to a small-town relationship radio show for help and finds himself falling for the host.
Jason London (Dazed And Confused) stars with John Schneider (The Dukes of Hazzard, Smallville), Max Udell (Lisa And Liza), and international soap stars Lindsay Hartley (Passions,) and Judy Evans (Guiding Light, Days of Our Lives).
Banking On Love is casting now and centres on a failing mechanic and an uptight loan officer forced to spend the Christmas holiday together locked in a bank vault.
Gell, who serves as the company's VP international sales and distribution, has also announced a raft of sales, closing Courting Mom & Dad and Finding Love In Quarantine with Italia in the Middle East, and Warrior Queen for theatrical release in the UK with Vertigo, and Rialto in Australia and New Zealand.
Beckman has gone to Lani-I in South Korea, Tiberius in Germany, Polemedia in Eastern Europe, ATM in West Indies, and Italia in the Middle East.
Great Movies acquired a package of film for TV Germany including God's Not Dead, and Silver Bells, while Falcon took a package including Case For Christ, Do You Believe? Finding Love In Quarantine, and Courting Mom & Dad for Indonesia.
Dutch Channels acquired rights in Netherlands, Scandinavia and UK for Courting Mom & Dad and Finding Love In Quarantine, as well The Reason, Sweet Inspirations, the Encounter Series seasons 1 & 2, among others.
In other deals, Pure Flix / Quality Flix has licensed Life With Dog and Lucky's Treasure to High Fliers in the UK; Little Women to Exponetnta in Russia/CIS; Finding Normal to Movie On Pictures in Italy; and Little Women and Sweet Inspirations to Comart in South Africa.