The Les Arcs Film Festival, celebrating its 10th year in 2018, has unveiled its selection of co-production projects for this year's Industry Village.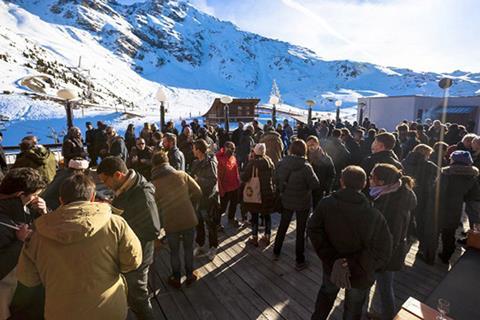 Running December 15-18, the event is a financing platform for feature films in development across Europe.
This year, 20 projects have been selected, including a new film from Carla Simon, whose Summer 93 won best first feature at this year's Berlinale. Her new project Each Of Us is being co-directed with Anne Zohra Berrached and Meritxell Colell and produced by Spain's Alhena Production.
Also at the event is Jonas Matzow Gulbrandsen's Norwegian feature Ashes And Snow, with producer Oslo Pictures. Gulbrandsen's Valley Of Shadows was at Toronto International Film festival in 2017. Dutch filmmaker Boudewijn Koole also has a new project in the selection – Meis with producers Witfilm – following his 2017 feature Disappearance, which screened at Les Arcs.
A total of 12 European countries are represented in the selection. There are 11 first features. Of the directors attached to the projects, 27% are female.
The project teams will have one-to-one meetings with producers, sales agents and distributors during the event. An award of €4,000 will be allocated to one of the films.
Launching this year is the Les Arcs Talent Village. The event will highlight eight emerging talents and their debut feature projects, with Danish filmmaker Thomas Vinterberg in attendance to give a masterclass.
In the week before the festival, the talents will take part in a development workshop held in Lyon at the film school La Cinéfabrique, with a focus on four areas: image, set design, costumes and music.
At Les Arcs, the projects will be introduced to attending industry and a jury will award the best project with a prize worth €5,000.
The festival also has a work in progress selection which is now being finalised. This year's country in focus at the Industry Village conference will be Poland.
Co-Production Village selection:
ARMAND * by Halfdan Ullman Tøndel produced by Ape&Bjørn (Norway)
ASHES AND SNOW ** by Jonas Matzow Gulbrandsen produced by Oslo Pictures (Norway)
BLACK DOG * by Marylise Dumont produced by Shellac (France)
CAPTURING SAMI * by Adi Voicu produced by Axel Film Echipamente (Romania)
EACH OF US ** by Anne Zohra Berrached, Carla Simón, Meritxell Colell produced by Alhena Production (Spain)
GODARD KNOWS THE TRUTH by Spiros Stathoulopoulos produced by Neda Film (Greece)
HEART'S EASE * by Igor Poplauhin produced by Kinokult Producers Center (Russia)
I FEEL BLOOD * by Dean Puckett produced by Grasp The Nettle Films Ltd. (United-Kingdom)
I NEVER CRY ** by Piotr Domalewski produced by Akson Studio (Poland)
ILLUSION ** by Marta Minorowicz produced by Alter Ego Pictures (Poland)
MAGNETICS * by Vincent Cardona produced by Easy Tiger and Srab Films (France)
MEIS by Boudewijn Koole produced by Witfilm (Netherlands)
MISTER SIROCCO AND THE KINGDOM OF THE WINDS * by Benoît Chieux produced by Sacrebleu Productions (France)
OTHER PEOPLE * by Aleksandra Terpinska produced by Madants (Poland)
PANTYLOVER(DOT)COM * by Niclas Larsson produced by MostFilm AB (Sweden)
RASCAL * by Peter Dourountzis produced by 10:15! Productions (France)
REPLY TO A LETTER FROM HELGA ** by Asa Helga Hjörleifsdottir produced by Zik Zak Filmworks (Iceland)
THE DELICATE BALANCE OF TERROR by Jagoda Szelc produced by Nur (Poland)
THIERRY by Peter Monsaert produced by Lunanime (Belgium)
WOKEN * by Alan Friel produced by Fantastic Films (Ireland)
* First feature film projects
** Second feature film projects
Talent Village selection:
Dawid Bodzak – Poland
Alexandra Brodski – United-Kingdom
Monica Lima – Portugal
Renato Muro – Italy
Hania Ourabah – France
Joan Vives Lozano – Spain
Bernhard Wenger – Austria
Miki Polonski – Israel (selected via the T-Port Les Arcs prize)