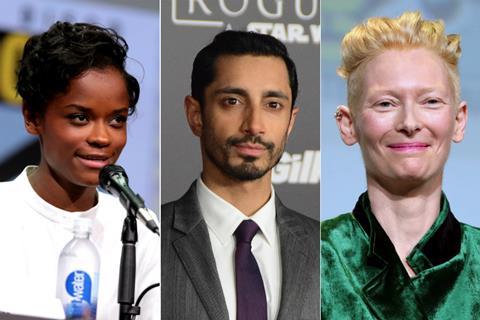 UK actors Letitia Wright, Riz Ahmed, and Tilda Swinton will each take part in the online Screen Talks and events programme of the 64th BFI London Film Festival (October 7-18).
Wright and Ahmed will give Screen Talks about their careers. Both are former Screen Stars of Tomorrow from 2012 and 2006; Wright appears at the LFF in Steve McQueen's festival opener Mangrove, while Ahmed wrote and starred in Bassam Tariq's rap drama Mogul Mowgli.
Tilda Swinton will take part in a session titled 'Reflections on Friendship's Death', a discussion with fellow actor Bill Paterson about their lead roles in 1987 film Friendship's Death, the only solo feature film made by UK film theorist Peter Wollen.
Further Screen Talks on the programme include musician and artist David Byrne, with Spike Lee's concert film David Byrne's American Utopia playing at the festival; Michel Franco, winner of the Silver Lion – Grand Jury prize at Venice Film Festival for New Order; multi-disciplinary artist Miranda July, director of festival selection Kajillionaire; and German filmmaker Christian Petzold, whose Berlin 2020 Competition title Undine plays at LFF.
A strand of Young Programmer events will discuss breaking down barriers to disadvantaged young people working in film and TV; while three Discursive Events include discussions on 'The Female Horror Renaissance', the 'British Doosra Movement', and the rise of sneaker culture.
The festival has also announced a selection of XR events, which will take place inside newly-created virtual exhibition space The Expanse.
LFF announced its programme on September 8, with a combination of physical screenings and online films. It has since added Regina King's One Night In Miami and McQueen's Lovers Rock, as well as launching a works-in-progress showcase for UK projects in development.