Time Raiders overtook Skiptrace to become China's biggest local title this summer.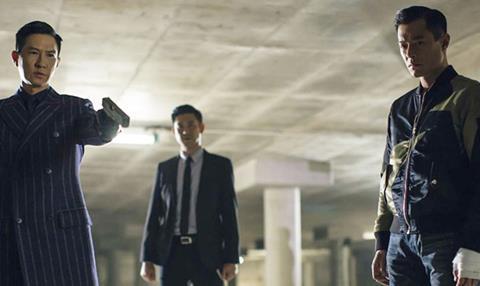 Last week has once again proven that China's summer box office this year has not been quite as sizzling as many would have expected.
New releases failed to heat up ticket sales in a slow week which dropped approximately 33%, while holdovers took the top four places, with police drama Line Walker in the lead.
Line Walker climbed to top spot in the week of Aug 15-21, adding $35.11m in its second week with hardly any drop from the week before.
The big screen adaptation of Hong Kong's TVB popular cop drama has stayed top since its opening on August 11.
Nevertheless, its cumulative take of $71.11m after 11 days only made it the fifth highest grossing local film this summer, no match for the $140.58m collected by Time Raiders after 17 days.
Love O2O, which opened in fourth place two weeks ago, shot up to second place in its second week after adding $15.74m for $34.07m after 10 days.
After taking the crown for the last two weeks, Time Raiders dropped to third with $14.46m for $140.58m after 17 days. It has overtaken Jackie Chan-starrer Skiptrace to become the biggest summer title this year as well as the fifth highest grossing local film this year.
Time Raiders is one of three films to have crossed the $100m threshold this summer, with the other two being Skiptrace and Cold War 2. But their combined box office pales in comparison to the same period last year when a phenomenal three local films (Monster Hunt, Jian Bing Man and Monkey King: Hero Is Back) emerged as mega-blockbusters.
Time Raiders will outperform Monkey King: Hero Is Back, but will struggle to reach the heights of Jian Bing Man ($181m) and Monster Hunt ($381m).
Among the new releases, local animation New Happy Dad And Son 2 fared the best, debuting in fifth with $7.91m from its three-day opening weekend.
Two rare Russian titles entered the top 10: fantasy adventure On-Drakon landed in seventh place with $6.61m and disaster film Ekipazh in ninth place with $3.69m, both from their first three days.
Local virtual reality animation Throne Of Elves rounded up the chart with $2.79m from its first three days.
Holdovers Call Of Heroes came in fourth with $9.79m for $23.47m after 10 days; Universal's animation The Secret Life Of Pets fell to sixth with $7.30m for $56.07m after 20 days; and Disney's nature documentary Born In China took eighth place with $3.99m for $6.26m after 10 days.
After a hiatus of almost two months, Hollywood films are poised to make a comeback with Jason Bourne and Ice Age: Collision Course scheduled for release tomorrow (August 23).