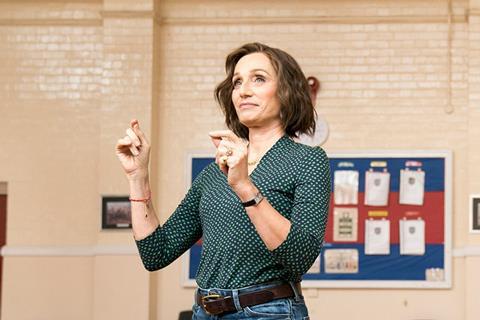 Lionsgate UK is to give feel-good drama Military Wives an early digital release, following the widespread closure of cinemas in the wake of the Covid-19 outbreak.
The film, starring Kristin Scott Thomas and Sharon Horgan, will be made available on all premium VOD platforms for a limited time from Friday, March 27.
Zygi Kamasa, CEO of Lionsgate UK, said: "The cinematic experience is key to our industry, and exhibitors continue to be our integral partners and allies. With cinemas closed nationwide due to the current climate, we want to continue to make Military Wives available to consumers."
A spokesperson for Lionsgate said no other titles were being considered for early digital release in the UK at this time.
Military Wives had spent just two weekends on theatrical release before cinemas across the UK were closed, following government advice to slow the spread of coronavirus. It took close to £1m when it opened on March 6, including previews, and added more than £400,000 on its second weekend, despite audiences beginning to stay away and employ "social distancing".
By the time UK prime minister Boris Johnson announced that cinemas and other public venues should close, the film had grossed £2.47m.
Military Wives is one of several films to receive an early release on digital platforms in a bid to serve audiences that are remaining indoors during the pandemic. Universal have made titles including The Invisible Man, Emma and The Hunt available to audiences early while smaller, independent releases such as Dogs Don't Wear Pants and The Perfect Candidate have been lined up for streaming in place of planned theatrical releases.
In the US, studios including Disney, Warner Bros and Sony have also opted to bring forward the digital release of major features including Onward, Birds Of Prey and Bad Boys For Life. Lionsgate in the US will release faith-based drama I Still Believe on premium VOD early, on March 27.