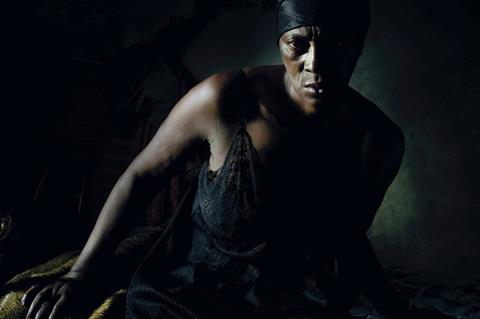 Portuguese filmmaker Pedro Costa received Locarno Film Festival's top honour, the Golden Leopard, for his latest feature Vitalina Varela which had its world premiere in the Swiss festival's international competition.
Scroll down for full list of winners
The international jury headed by French filmmaker and novelist Catherine Breillat also presented the Leopard for best actress to the 55-year-old Cape Verde islander Vitalina Varela for her performance in the film named after herself.
This is the second time Costa had taken home one of the main awards in Locarno: in 2014, he was presented with the Leopard for best direction for his feature Horse Money.
In addition, it is the second time in the festival's 72-year history that the Golden Leopard has gone to Portugal after José Álvaro Morais won the top honour for The Jester in 1987.
Meanwhile, South Korea's Park Jung-bum picked up the special jury prize for his third feature film Height Of The Wave and the Leopard for best direction went to former dancer turned filmmaker Damien Manivel's first film about dance, Les Enfants d'Isadora.
In addition, the international jury presented its best actor prize to Regis Myrupu for his portrayal of a security guard at Manaus harbour in Brazilian filmmaker Maya Da-Rin's The Fever which was co-produced by Germany's Komplizen Film, the recipients of this year's Raimondo Rezzonico Prize for best independent producers.
Senegalese writer-director Mamadou Dia received the Golden Leopard in the Filmmakers of the Present competition for his feature debut Nafi's Father which also took home the first feature award, while the best emerging director award went to Algerian-born filmmaker Hassen Ferhani for 143 Sahara Street.
International guests attending the first edition of the festival under the new artistic director Lili Hinstin included John Waters, Hilary Swank, Joseph Gordon-Levitt, Claire Atherton, Bong Joon-ho, Albert Serra, Song Kang-ho and Ginevra Elkann, who opened the festival with her feature Magari, and Kiyoshi Kurosawa, whose To The Ends Of The Earth closes the eleven days of the 72nd edition on Saturday evening.
While attention was naturally focused by visiting press and professionals on the film programme of 246 titles put together by Hinstin and her team, conversation during the evening receptions also focused on her predecessor as Locarno's artistic director, Carlo Chatrian, and the challenges he and co-director Mariette Rissenbeek are now facing at the Berlinale in possibly having to find alternative screening venues for the eight screens at the Cinestar cinema complex that may not be available for the festival to use for its 70th edition next February.
The 2020 Locarno Film Festival will be held from August 5-15.
This year's winners are below:
International competition
Golden Leopard: Vitalina Varela by Pedro Costa, Portugal
Special Jury Prize: Pa-Go (Height Of The Wave) by Park Jung-Bum, South Korea
Leopard For Best Direction: Damien Manivel for Les Enfants D'isadora, France/South Korea
Leopard For Best Actress: Vitalina Varela for Vitalina Varela by Pedro Costa, Portugal
Leopard For Best Actor: Regis Myrupu for A Febre by Maya Da-Rin, Brazil/France/Germany
Special Mentions: Hiruk-Pikuk Si Al-Kisah (The Science Of Fictions) by Yosep Anggi Noen, Indonesia/Malaysia/France, Maternal by Maura Delpero, Italy/Argentina
Filmmakers Of The Present Competition
Cineasti Del Presente Golden Leopard: Baamum Nafi (Nafi's Father) by Mamadou Dia, Senegal
Best Emerging Director Award: 143 Rue Du Désert by Hassen Ferhani, Algeria/France/Qatar
Special Jury Prize: Ivana Cea Groaznica (Ivana The Terrible) by Ivana Mladenović, Romania/Serbia
Special Mention: Here For Life by Andrea Luka Zimmerman, Adrian Jackson, United Kingdom
Moving Ahead
Moving Ahead Award: The Giverny Document (Single Channel) by Ja'tovia M. Gary, Usa/France
Special Mentions: Those That, At A Distance, Resemble Another by Jessica Sarah Rinland, United Kingdom/Argentina/Spain, Shān Zhī Běi (Osmosis) by Zhou Tao.
First Feature
First Feature Award: Baamum Nafi (Nafi's Father) by Mamadou Dia, Senegal
Peace Hotel Award: La Paloma Y El Lobo (The Dove And The Wolf) by Carlos Lenin, Mexico
Special Mentions: Instinct by Halina Reijn, Netherlands, Fi Al-Thawra (During Revolution) by Maya Khoury, Syria/Sweden
Leopards Of Tomorrow - International Competition
Pardino D'oro For The Best International Short Film: Siyah Güneş (Black Sun) by Arda Çiltepe, Turkey/Germany (Locarno Short Film Nominee For The European Film Awards 2019)
Pardino D'argento: Umbilical by Danski Tang, Usa
Pardi Di Domani Best Direction Prize: Otpusk (Leave Of Absence) by Anton Sazonov, Russia
Premio Medien Patent Verwaltung Ag Prize: White Afro by Akosua Adoma Owusu, Ghana/USA
Leopards Of Tomorrow - National Competition
Pardino D'oro For The Best Swiss Short Film: Mama Rosa by Dejan Barac, Switzerland
Pardino D'argento Swiss Life: Tempête Silencieuse by Anaïs Moog, Switzerland
Best Swiss Newcomer Prize: Terminal by Kim Allamand, Switzerland
Piazza Grande Award: Instinct by Halina Reijn, Netherlands
Other awards
Ecumenical Jury Prize: Maternal by Maura Delpero, Italy/Argenti
Special Mention: Vitalina Varela by Pedro Costa, Portugal
FIPRESCI Prize: A Febre by Maya Da-Rin, Brazil/France/Germany
Europa Cinemas Label: Maternal by Maura Delpero, Italy/Argentina