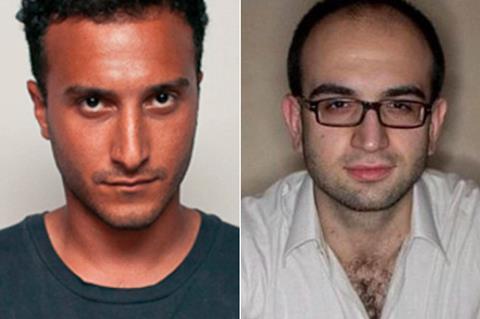 Projects from US filmmaker Lotfy Nathan and Italian-Iraqi director Haider Rashid are among the 23 titles selected for the project market of the Red Sea Souk, the industry platform of the Red Sea International Film Festival.
The project market is split into two sections: 12 projects in the market alone, with a further 11 market projects that have been developed in the Red Sea Lodge throughout the year, in workshops in partnership with the TorinoFilmLab.
Scroll down for the full list of projects
All market projects will compete for three cash prizes, awarded by a yet-to-be-announced jury: $35,000 for development, $35,000 for the jury special mention, and $100,000 for production.
Two of the Red Sea Lodge projects will receive production prizes of $100,000 each.
The Souk has also selected six feature projects in post-production for its Work-In-Progress showcase. A separate jury there will distribute a post-production award of $30,000.
Nathan will present an Egyptian-US co-production called Gura, on which few details are currently available. Having directed 2013 SXSW documentary 12 O'Clock Boys, Nathan broke through on the European scene earlier this year with Cannes Un Certain Regard selection Harka, which won the best performance prize for Adam Bessa, jointly with Vicky Krieps for Corsage.
Harka – then under the name Contra – took the top post-production award at last year's inaugural Red Sea Souk project market.
Rashid's Iraqi-Italian co-production Tigris will be his first feature since thriller Europa, which debuted in Directors' Fortnight at Cannes 2021.
There are 10 feature debuts across the Red Sea Souk selection, which aims to discover and connect Arab and African filmmakers to the international film community.
"Following the success of our inaugural edition, we have seen an increase in submissions from established and emerging filmmakers who are redefining filmmaking in the region. There is an increased appetite for content," said Myriam Arab, consultant for the Red Sea Souk.
Red Sea Souk 2022 Project Market
Behind The Palm Trees (Mor-Fr-Belg) dir. Meryem Benm'Barek
Darwin In Taif (Saudi-Can) dir. Maha Al-Saati
I Am Coming For You (Cam) dir. Cyrielle Raingou
Gura (Egy-US) dir. Lotfy Nathan
Men In The Sun (Pal-UK-Gr-Neth-Den) dir. Mahdi Fleifel
She Was Not Alone (Iraq) dir. Hussein Al-Asadi
Tigris (Iraq-It) dir. Haider Rashid
Trip To Jerusalem (Leb-Fr) dirs. Gaby Zarazir, Michel Zarazir
Vagabonds (Gha-Fr) dir. Amartei Armar
Where Is The Healer? (S Afr-US) dir. Tebogo Malebogo
Wolfmother (Mor-Fr) dir. Ismaël El Iraki
Yunan (Syr-Pal-Ger-Fr-It) dir. Ameer Fakher Eldin
Red Sea Lodge Projects
The Settlement (Egy) dir. Mohammed Rashad
Yajuj (Saudi) dir. Fahmi Farahat
The Last Argument Against Youth (Saudi) dir. Mohammed Algebreen
A Quarter To Thursday In Algiers (Alg) dir. Sofia Djama
You Were The Poet, And I Thought I Existed (Saudi) dir. Sara Mesfer
Tahweedah (Saudi) dir. Omar Al Omirat
Bubblegum Brigades (Leb) dir. Samah El Kadi
Dancing On Fire (Saudi) dir. Hana Alomair
Aisha Can't Fly Away Anymore (Egy) dir. Morad Mostafa
Dogmas (Alg) dir. Salah Issaad
Scapegoat (Saudi) dir. Feras Al-musharrei
Works-In-Progress Showcase projects
Banel e Adama (Fr-Sen-Mali) dir. Ramata-Toulaye Sy
Concrete Land (Jor) dir. Asmahan Bkerat
Hounds (Fr-Mor-Belg) dir. Kamal Lazraq
Jewfro (S Afr) dir. Jack Markovitz
The Burdened (Yem-Sud-Saudi) dir. Amr Gamal
The Mother Of All Lies (Mor-Qat-Saudi-Egy) dir. Asmae El Moudir