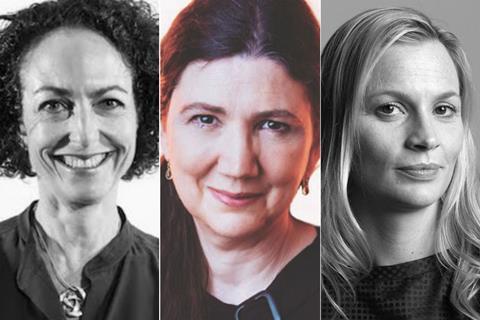 The filmmakers behind Oscar-winner 1917 are among a raft of UK talent invited to join the US' Academy of Motion Picture Arts and Sciences (AMPAS).
Producer Pippa Harris, writer Krysty Wilson-Cairns and star George MacKay are among 819 artists and executives who have been invited to join the Academy as part of its 2020 intake. Further invitees who worked on the World War One drama include set decorator Lee Sandales, sound editor Rachael Tate and VFX supervisor Richard Little.
UK executives and behind-the-scenes talent span the numerous AMPAS branches that have extended invitations.
On the executive front, Curzon Artificial Eye managing director Louisa Dent is on the list. Curzon distributed Oscar-winner Parasite in the UK earlier this year, breaking the record for highest-grossing, non-English language film of all time in the UK.
Among the producers, Fable Pictures' founder Faye Ward has been invited to join the Academy. Her credits include Wild Rose, Stan & Ollie and Rocks.
UK directors on the list include Terence Davies (The House Of Mirth), Matthew Vaughn (Kick-Ass) and Wash Westmoreland (Still Alice).
Writing duo Jez Butterworth and John-Henry Butterworth, the brothers who collaborated on Ford v Ferrari and Edge Of Tomorrow, are among the UK screenwriter intake alongside Amy Jump, who has worked extensively with partner Ben Wheatley on films including Sightseers, Free Fire and the upcoming Tomb Raider 2.
Glasgow-born casting director Des Hamilton (Jojo Rabbit), UK cinematographer Polly Morgan (Lucy In The Sky, A Quiet Place Part II) and film editors Louise Ford (The Lighthouse) and Andrew Bird (In The Fade) have also been selected.
Irish costume designer Catherine George (Okja, Snowpiercer) and Eimer Ní Mhaoldomhnaigh (Love & Friendship) have been invited by the Academy as well as makeup artists Barrie Gower (Rocketman) and Marese Langan (Emma, Belle).
The UK is well represented on the music front with invitees including U2 drummer Larry Mullen Jr., Elton John collaborator Bernie Taupin alongside musicians Dev Hynes (Queen & Slim), Michael Nyman (The Piano), Max Richter (Ad Astra), Tom Howe (A Shaun The Sheep Movie: Farmageddon) and Ilan Eshkeri (Stardust).
UK documentary filmmakers invited this year include Emma Davie (Becoming Animal) and London-born Tala Hadid (House In The Fields).
Harriet and Widows star Cynthia Erivo, Florence Pugh (Little Women) and Sudanese-born English actor Alexander Siddig (Syriana, 21 Bridges) are among the acting invitees.
Further invitees include Teresa Moneo, the Spanish-born executive who has spent most of her career in London, working at Focus Features, Pathe and now Netflix, as director of international film at the streaming giant; and Gabriela Rodriguez, a Venezuelan-born film producer who is now based in London and worked on Alfonso Cuaron's Roma and Gravity.