Sci fi epic stars Dane DeHaan and Cara Delevingne.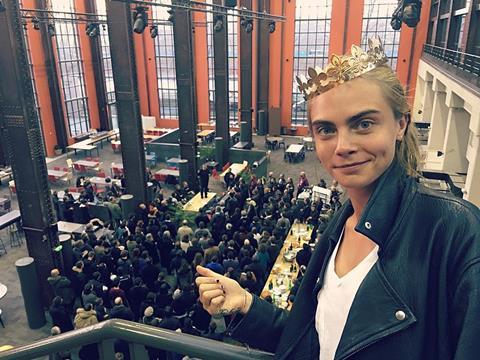 Principal photography has begun in Paris on Valerian And The City Of A Thousand Planets, a science fiction epic written and directed by Luc Besson (The Fifth Element, Lucy) and starring Dane DeHaan and Cara Delevingne (who posted a picture on Instagram from the studio).
Besson based his screenplay on the French sci-fi comic series Valerian and Laureline, by Jean-Claude Mézières and Pierre Christin.
The film also stars Clive Owen, Rihanna, Ethan Hawke, Herbie Hancock and Kris Wu and release is slated for July 21, 2017.
The story centres on Valerian (DeHaan) and Laureline (Delevingne), special operatives for the government who are charged with maintaining order throughout the universe.
At $180 million, Valerian is set to be the biggest-budget European film to date.
Besson suggested last year that he would shoot the big budget production in Hungary rather than France if regulations governing French film credits were not adjusted to accommodate the production.
The production was not eligible for a 20% tax credit for French films, due to the fact it will be in English and star a mainly non-French cast, and did also not qualify for the Tax Rebate for International Production (TRIP) as it is a local production.
But local non-French language productions with a strong special-effects element have now been given the same status as feature-length animation films, so these too can qualify for the 30% credit - a modification rushed through at the end of 2015 to meet Besson's requirements.
As a result, Valerian is eligible as a French film and could benefit from up to $34m (€30m) in savings while creating around 1,000 jobs.
Virginie Besson-Silla is producing the film on behalf of EuropaCorp, while Fundamental Films, BNP Paribas, Orange, Universum Film, Gulf Film, River Road Entertainment, Belga Films and TF1 Films Production are the main co-financiers of the movie.
Besson's English-language film Lucy, partially shot in Paris and starring Scarlett Johansson, went on to gross $459m worldwide when released in 2014 and became the most successful French film of all time.