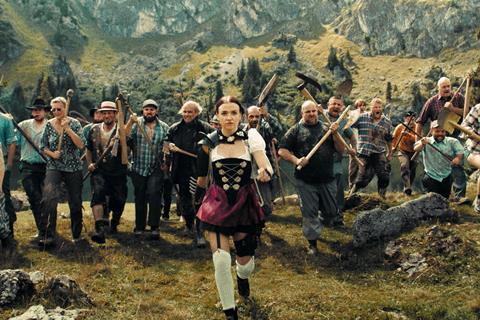 The team behind upcoming feature Mad Heidi has launched a crowdfunding initiative for fans to invest in the film and share in any future profits.
The genre twist on the classic character is from the producer of Iron Sky and has already explored traditional crowdfunding and raised $281,000 (CHF 266,000) – mostly in merchandise sales – over the past two years for the development of the film.
Now, in a bid to raise most of its production finance, fans are being invited to invest in the project for a share of the revenue. The Mad Invest model will see fans invest at levels starting at $540 (CHF 500) in return for getting revenue share in the film for the first seven years after its launch.
A maximum of 4,000 shares will be sold and the team aims to raise $1.08m (1m CHF) by end of 2020, or else they will return all investors' money.
In the few days before today's official launch at the Zurich Film Festival, the team had raised $271,000 (CHF 250,000).
Investments are handled automatically and transparently on a bespoke blockchain-enabled platform, developed with FilmChain.
Described as the first 'Swissploitation' film, Mad Heidi will mark the feature directorial debut of Switzerland's Johannes Hartmann and plans to shoot in summer 2021. The genre film centres on the famous Swiss mountain girl, who has grown up and is living in an alternative Switzerland that has fallen under fascist rule, which dishes out "fondue torture" and "death by chocolate".
"It's a dystopian future scenario in which Switzerland is governed by a cheese dictator," said Hartmann said. "Fans were able to join a script meeting half a year ago, 10 supporters read the entire script and gave us feedback, and we improved the script based on that feedback."
Producers are Tero Kaukomaa (Iron Sky) and Valentin Greutert (Paradise War).
Kaukomaa told Screen: "I was inspired by what we did with Iron Sky, successfully building a fanbase over 12 years. With Iron Sky we created the hype of a lifetime, it was everywhere. The fanbase around the world was dying to see this film but it was only available in a few territories. More than 50 million people pirated it."
The Mad Invest model will not only ensure control creative of the project but will also encompass the launch of the film simultaneously around the world. "You can't kill piracy so you have to give people the possibility to pay," added Kaukomaa. "We want not just creative control but control of distribution."
The film will launch in 2022 on the film's own MadHeidi.com platform before being made available on other platform, with the potential for theatrical special events.
Most investors to date have been from Switzerland and elsewhere in Europe. US fans are not permitted to participate due to legal restrictions.
The film's total budget is expected to be around $2.1m (CHF 2m), and the producers are also likely to seek tax credits or other soft money investment to top up the fan financing.
"Everything in this project is fans first," added producer Greutert. "Imagine a world where filmmakers have the power of a Hollywood studio and where fans can participate in the making of the film, invest and actually share in its profits. A world where filmmakers and fans can actually make money from their films."
Kaukomaa said he hoped the model would be used to fund other independent films and added: "We want to change the rules and create new opportunities. I hope we will be an example to many others."