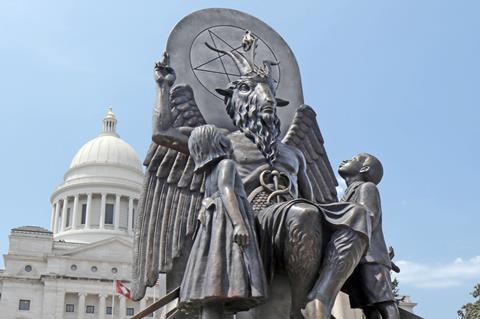 Magnolia Pictures has picked up worldwide rights to Sundance entry Hail Satan?, which will receive its world premiere in January in the U.S. Documentary Competition at Sundance Film Festival.
Penny Lane's film charts the rise of The Satanic Temple, a mysterious organisation led by Lucien Greaves that has called for a Satanic revolution to save the soul of the US.
Magnolia plans a spring 2019 theatrical release and head of international sales Lorna Lee Torres and manager of international sales Catalina Ramirez will launch sales at the EFM in Berlin in February.
"Penny Lane has crafted an eye-opening and completely satisfying film about outsiders who have united around the common causes of love and religious freedom," said Magnolia president Eamonn Bowles. "Hail Satan? is as uplifting and hilarious as it is thought-provoking."
"When my producer Gabriel and I started cooking up this wacky (and surprisingly inspirational?!) documentary on the new Satanic movement, we knew the hardest part would be finding the right partners to help us bring it to the public," said Lane. "It's controversial! It's about Satan! We could not have been any luckier than we have been with Magnolia. They get it, what can I say?"
Hail Satan? is a Hard Working Movies Production and is produced by Gabriel Sedgwick. The film received grant support from Catapult Film Fund, Sundance Institute Documentary Film Program with JustFilms / Ford Foundation, Rooftop Films, Cinereach, Chicken & Egg Pictures, and Colgate University.
Magnolia executive vice-president Dori Begley and Magnolia senior vice-president of acquisitions John Von Thaden negotiated the deal with the filmmakers.