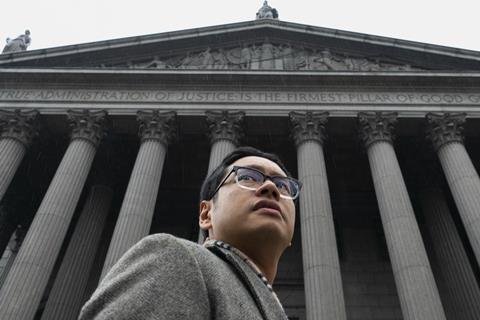 Magnolia Pictures and Topic Studios have picked up worldwide rights on hit Sundance documentary The Fight and Magnolia International will launch sales at EFM next month.
The acquisition is understood to be in the seven-figure range and follows a brief lull following the avalanche of trade that dominated Park City on Sunday and Monday.
Elyse Steinberg, Joshua Kriegman and Eli Despres have found a home for one of the most acclaimed films of Sundance. Since it premiered in U.S Documentary Competition last Friday, industry attendees and audience members were heard frequently referencing the film at events an on the shuttle buses around town.
The Fight follows a team of lawyers inside the ACLU as they battle president Trump's assault on civil liberties. Policies include the Muslim travel ban, and efforts by the administration to kick transgender soldiers out of the military, roll back voting rights, separate migrant children from their parents, and block abortion access for undocumented teens.
Magnolia and Topic Studios will release the documentary in the US this year. The Fight screens again in Park City on Frday and Saturday.
Steinberg, Maya Seidler, Kriegman, Despres, Peggy Drexler, and Kerry Washington produced, and Matthew Perniciaro, Michael Sherman, Florence Sloan, Harry Sloan, Pilar Savone, and executive vice-president of Topic Maria Zuckerman served as executive producers.
"Not all heroes have superpowers and The Fight thrillingly shows us that committed people can make a huge difference in our world," said Magnolia president Eamonn Bowles. "Directors Elyse Steinberg, Joshua Kriegman and Eli Despres have made an incredibly emotional, funny and human look at folks striving to do what's right."
"Having been involved with The Fight since its early days, we at Topic Studios are thrilled to come full circle to partner with Magnolia and these tremendous filmmakers on its release," said Zuckerman. "We believe audiences will be captivated by this illuminating and electrically entertaining film."
Magnolia and Topic executives brokered the deal with CAA Media Finance and Submarine Entertainment.