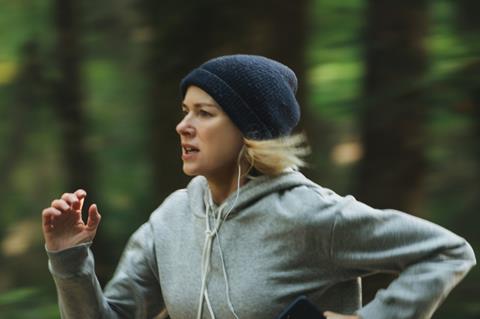 The quietest TIFF in years in terms of transactions is rolling into its second week as buyers weigh up a smaller number than usual of appealing acquisition titles playing the festival and the industry comes down from the high of Venice.
Industry attendees have conveyed the pleasure of being at a festival again – in some cases for the first time in nearly two years – and watching films in Toronto's capacity-restricted venues. The pace has been languid, although that can always change quickly.
At time of writing buyers were catching up on selections including Phillip Noyce's school shooting thriller Lakewood starring Naomi Watts, Rob Savage's Blumhouse horror Dashcam, John Michael McDonagh's The Forgiven with Ralph Fiennes and Jessica Chastain that is available for the US, Michael McGowan's sibling drama All My Puny Sorrows, Stefan Forbes's crime documentary Hold Your Fire, and family drama Montana Story from Scott McGehee and David Siegel.
Premiering on Monday is Barry Levinson's The Survivor with Ben Foster– which Endeavor Content has shown to some US buyers ahead of its Monday world premiere berth – and on Wednesday Sigourney Weaver and Kevin Kline in The Good House directed by Maya Forbes and Wallace Wolodarsky.
A quartet of Venice world premieres plays in Toronto and are available for the US led by Official Competition from Gastón Duprat and Mariano Cohn, Michel Franco's Sundown, Lorenzo Vigas's The Box, and The Other Tom from Rodrigo Plá and Laura Santullo.
Some US buyers have conceded they still have room to slot in an acquisition before the end of the year. Toronto is known for producing late entries into awards season and while sources said candidates are few and far between this year, the obvious prospect would on paper at least appear to be The Survivor with its much-admired performance by Foster.
Major market packages are thin on the ground although Endeavor Content has the noir ensemble Sniff featuring Helen Mirren, Morgan Freeman and Al Pacino, while FilmNation, CAA and Endeavor Content quietly introduced rap story We All Die Young with Idris Elba among the attached cast.
Toronto is traditionally a quiet market for pre-sales packages and sellers may be testing the water ahead of a more aggressive push in the weeks ahead or during the virtual AFM, when US and international buyers will be focused on filling the pipeline in the latter stages of 2022 and beyond.
That said, the streamers have accelerated so much of the transactional marketplace and a broadly appealing project could go in an all-rights deal within days of hitting the market. The spending power of streamers in particular can brush aside any smaller buyer, let alone a studio. Former Searchlight Pictures co-head Steve Gilula said as much in a TIFF session last week when he noted "gigantic cheques" from Amazon Studios and Netflix had turned the acquisitions space on its head.
While many major US buyers and sellers are staying away this year due to travel complications during the pandemic, people recognise the benefits of attending TIFF in any other year as a gathering place and opportunity to see finished films, meet friends, and start early talks on projects that will get a harder sales push at AFM.
Modest US deals are expected to close in the days ahead but for now buyers are taking their time and surveying what is on offer.