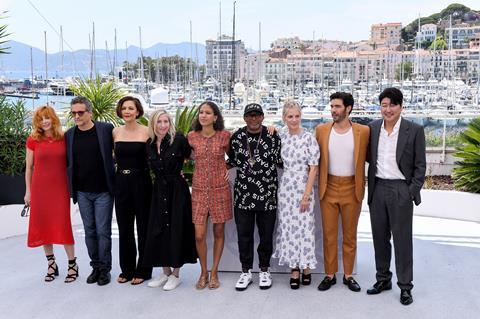 "A majority of women may choose different movies [to honour]," said Maggie Gyllenhaal, a member of this year's Cannes Competition jury, which for only the second time following 2018 is comprised of a majority of women.
"When women are really expressing themselves, even inside a very male culture, we make movies differently," Gyllenhaal continued, speaking at the jury press conference on Tuesday (July 6) ahead of the opening night premiere of Annette in Competition.
Fellow juror Austrian director Jessica Hausner told a story of passengers leaving the bus of Vienna's first female bus driver in the 1950s over fears she could not drive properly. "We have gone very far since then, but some of those fears are still in our heads," said Hausner.
France-Senegal director Mati Diop, whose Atlantics won the Grand Prix in Competition two years ago, said that when it is no longer necessary to note when a film is made by a woman, that "cinema will become the real subject".
Jury president Spike Lee reflected on the lack of social change he has witnessed since Do The Right Thing premiered at Cannes in 1989, by addressing recent incidents of brutality against Black people. "When you see brother Eric Garner, King George Floyd murdered, lynched, I think of Radio Raheem [a character from Do The Right Thing]. You would hope that 30-something mother-f***ing years later, Black people would've stopped being hunted down like animals."