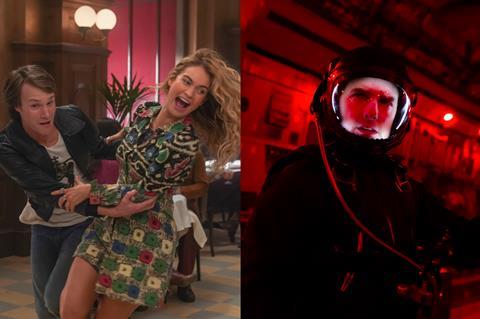 Today's GBP to USD conversion rate - 1.31
Universal
UK distributors will have been thrilled to see the rain this weekend.
Mamma Mia! Here We Go Again reigned over the box office once again, holding superbly with a £7.1m three-day, meaning the film dropped a very slim 27% on its opening.
The film is now up to £27m and counting, meaning it is already making headway towards being one of the year's biggest titles (currently Avengers: Infinity War leads with £70.8m, followed by Black Panther on £50.4m). The original Mamma Mia! ended on a goliath £68.6m - the latest film still requires significant legs to get near that figure.
Skyscraper is up to £4.7m in the UK after adding £328,230 this weekend, while The First Purge added a further £279,004 for £5.1m, and Jurassic World: Fallen Kingdom is up to £40.5m after a £343,191 weekend.
Paramount
Mission: Impossible – Fallout took off with a £5.4m three-day opening weekend. That figure came from 585 sites, making for an average of £9,231. Including previews, the official opening for the film is £7.3m.
That comfortably tops the previous franchise entry, Mission: Impossible – Rogue Nation, which got underway with £4.4m in August 2015 (plus £1m in previews). Looking purely at opening three-day weekends, Fallout is a record opening for the franchise, eclipsing Mission: Impossible III (£4.8m opening), Mission: Impossible II (£4.6m) and Mission: Impossible – Ghost Protocol, which kicked off with £8.2m but that total included a hefty £5.4m in previews, meaning its opening three-day was £3.9m.
Backed by strong reviews, Fallout will be looking to challenge the franchise's overall highest grossing entry in the UK, Rogue Nation, which maxed out on £21.2m.
Sherlock Gnomes is up to £9m after adding £97,000 this weekend.
Disney
Incredibles 2 won the war of the family animations this weekend by topping Hotel Transylvania 3, despite being in its third week of release. The film added £5.1m and is up to £33.2m so far, meaning it has now passed the total UK grosses of its predecessor The Incredibles, which topped out at £32.3m.
In terms of the wider Pixar universe, next in its sights is Up (£34.6m), Finding Nemo (£37.5m) and Monsters Inc (£37.9m).
Sony Pictures
Family animation Hotel Transylvania 3: A Monster Vacation opened with £3.4m from its 549 sites this weekend, an average of £6,193. That tops the original's £1.7m bow but falls short of the sequel's £6.3m, though the latter figure included a heft £3.5m in previews, meaning this is technically the best opening weekend for a Hotel Transylvania film to date. The second film ended its UK run on £20.7m.
Leave No Trace is ticking over with a further £18,000 this weekend taking it to £309,000 so far, while Soorma is up to £65,000.
Piece Of Magic
Renowned violinist Andre Rieu was back in UK cinemas again this weekend for his annual one-off concert. The popular event cinema release - Andre Rieu 2018 Maastricht Concert - took a projected £1.6m. If that turns out to be an accurate final result, the figure is his best yet, eclipsing the 2017 opening of £1.4m.
Warner Bros
Ocean's 8 has reached £10.7m after adding £119,000 this weekend, while Hotel Artemis added a further £65,000 to reach £625,000 so far.
National Amusements
Thomas And Friends: Big World! Big Adventures! is up to £295,453.
Curzon Artificial Eye
Apostasy, the BFI, Creative England, BBC Films, Creative Skillset-backed iFeature from debut filmmaker Daniel Kokotajlo, opened to £66,002 from 30 screens for a strong average of £2,200.
Mary Shelley is up to £94,764, while In The Fade is now on £71,881.
Trafalgar Releasing
Saul screened in 108 UK cinemas on Thursday July 26, with 83 sites so far reporting grosses of £44,000.
Picturehouse Entertainment
First Reformed took £29,895 in its third weekend, taking it to £257,129 to date.
20th Century Fox
Sanju is up to £1.3m, while Deadpool 2 has amassed £32.6m in the UK.
Lionsgate
Sicario 2: Soldado is up to £2.1m so far, McQueen is up to £612,996 and The Happy Prince is now on £799,704.
BFI Distribution
James Ivory's 1987 romance Maurice, starring Hugh Grant, was re-released this weekend into 12 cinemas, taking £9,468. Including a handful of previews, the film took £13,224.
Altitude
Whitney added a further £9,298 for a cume of £420,708 to date, A Prayer Before Dawn posted £7,330 from six sites in its second weekend for a cume of £65,658, while Spitfire took a further £1,547 (from six sites hosting encore screenings), for a cume of £218,271.