Mueller said his unexpected resignation was due to "divergent opinion" with the festival organisers.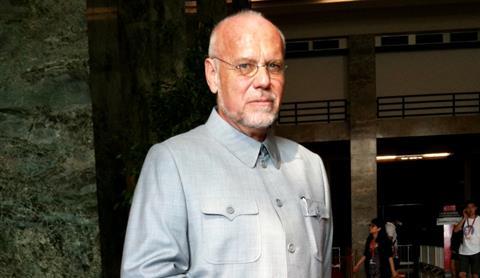 The inaugural International Film Festival and Awards Macao (IFFAM) today unveiled its lineup of 49 feature films, one day after the abrupt departure of festival director Marco Mueller.
The six-day festival will open on Dec 8 with the Asian premiere of Valérie Müller and Angelin Preljocaj's Polina, which recently premiered at Venice Days.
The 11-strong international competition section consists of three world premieres (Macao-born Tracy Choi's debut feature Sisterhood, Shinobu Yaguchi's Survival Family and Shanker Raman's debut feature Gurgaon) and two international premieres (Elon Doesn't Believe In Death by Ricardo Alves Jr and Hide And Seek by Liu Jie).
The rest of the competition is filled by six Asian premieres, including 150 Milligrams by Emmanuelle Bercot, Free Fire by Ben Wheatley [pictured], Queen Of Spades by Pavel Lungin, Saint George by Marco Martins, The Winter by Emiliano Torres and Trespass Against Us by Adam Smith.
There are three gala screenings, including the world premiere of Takashi Miike's The Mole Song – Hong Kong Capriccio (Mogura no uta: Hong Kong kyôsô-kyoku), the international premiere of Park Jung-woo's Pandora and the world premiere of the restored version of Yonfan's Immortal Story, which was shot in Macao 30 years ago.
The Hidden Dragons section, which features nine contemporary genre films, will open with the world premiere of Macanese director Emily Chan's Our Seventeen. Erik Matti's Seclusion and Derek Nguyen's The Housemaid will make their international premieres.
The Best Of Fest Panorama will open with Nele Wohlatz's The Future Perfect, one of nine festival titles selected for this section.
Three films starring Gwei Lun Mei from Taiwan will be presented in Actress In Focus, including her most recent feature Forêt Debussy. Another two-film special presentation pays tribute to Swiss director Clemens Klopfenstein.
The Crossfire consists of 12 non-US genre films which are picked by a dozen of film-makers in recognition of their long-lasting influence on Asian film-making. These include Jean-Pierre Melville's A Cop (selected by Ann Hui), Henri-Georges Clouzot's Diabolique (selected by Kim Jee-woon) and Georges Franju's Eyes Without A Face (selected by Kiyoshi Kurosawa).
Departure
The programme was curated by Mueller and his selection committee, which includes Hong Kong film historian Law Kar, Hong Kong-based producer Ding Yuin Shan, Chinese film-maker Shan Dongbing and Portuguese director Ivo Ferreir.
Mueller told Screen today [Wed 14] that his departure was due to "divergent opinion" with the festival's organising committee.
"It's not just about the way the festival is run, but also to prove that the festival is a living force. A festival is not just about red-carpet events; it is about the people who make the films, people who distribute and market the films, as well as people who go and see the films," he said.
"I feel serene now that I've done the work I'm asked to do, but it's sad that I'm forced to leave before the festival starts," he said.
The post of acting festival director is now assumed by Maria Helena de Senna Fernandes who is president of IFFAM organizing committee and director of Macao Government Tourism Office.
She attended today's press conference along with Alvin Chau, president of Macau Film & Television Productions and culture association and executive vice president of IFFAM organizing committee, and Lorna Tee, head of festival management of IFFAM. Korean actor-singer Jang Keun-suk who serves as IFFAM talent ambassador was also present.