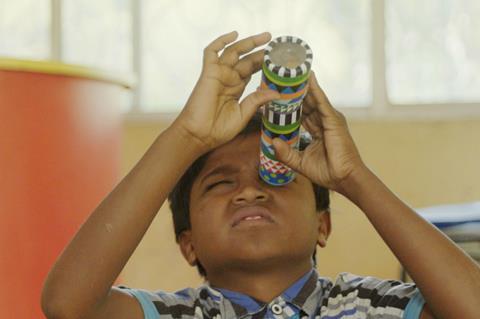 Met Film Sales, which launched in May 2017, is attending CPH:DOX with a busy slate including its first finished film.
The company is selling Jerry Rothwell's The School In the Cloud, which has its world premiere at CPH DOX tomorrow (March 20). The film is about TED Prize-winning Indian scientist Sugata Mitra, globally renowned for his pioneering use of digital self-learning.
Mitra will be attending CPH DOX to speak on a CPH:Science panel today (March 19), alongside Anna Verghase, Director of the TED Prize. The pair will also take part in a Q&A after the world premiere.
Rothwell's previous credits include How To Change The World and Deep Water. The School in the Cloud is produced by Al Morrow and Dan Demissie for Met Film (the sales outfit's sister production company). Funders include the Sundance Institute Documentary Film Program and TED Prize Filmmaker Award.
Rothwell will deliver a masterclass with Laura Nix on March 21 about 'How to Change the World One Film at a Time'.
Met Film Sales has one project being pitched at CPH:FORUM: Leftover Women, directed and produced by Shosh Shlam and Hilla Medalia, who previously collaborated on another China-set story, Web Junkie. The new film, an Israeli production for Medalia Productions and Shlam Productions, is about how educated, single women in China who are on a quest to find a husband before age 27, when the government deems them sheng nu, or 'leftover women'. The film has been shooting for three years with intimate access to three central protagonists.
Leftover Women has already pre-sold to Sweden (SVT), Norway (NRK), and Israel (Yes Docu). The film is supported by Abigail Disney's Fork Films and EWA (European Women's Audiovisual Network).
At the CPH:SCIENCE FORUM New York-based director Dempsey Rice (Daughter of Suicide) and producer Lori Cheatle (Matangi/Maya/M.I.A.) will pitch The Animated Mind Of Oliver Sacks. The immersive feature film will draw on 10 years of recorded conversations with the late famed neurologist, and the filmmakers also have access to his hand-written journals and unreleased photographs taken by Sacks himself. The film will be a mix of live action and animation, with cinematic recreations of case histories.
Met Film Head of Sales Vesna Cudic told Screen, "Since joining Met Film last year, and setting up the sales arm for them, I've been quietly working away on building my slate of docs in production. Now, the first of these films is ready to be presented to the public, with further three titles in advanced post-production."