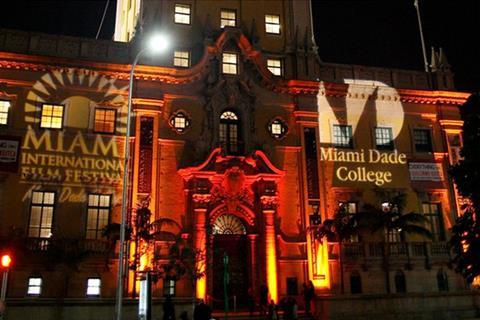 Next week's Miami Film Market remains on track as of Wednesday (4) despite the sudden withdrawal of co-organisers Unifrance and European Film Promotion (EFP) due to the global spread of coronavirus.
Screen understands all market screenings and events will still go ahead. Miami Film Festival will now solely oversee the Mercado de Cine Francés y Europeo, which is aimed at Latin American buyers and runs from March 8-11. The Miami Film Festival runs from March 6-15.
In a statement issued to Screen, Miami Film Festival executive director and director of programming Jaie Laplante said, "We are monitoring the covid-19 situation carefully and acting within the directives of the US government's Center for Disease Control, State of Florida and Miami-Dade County.
"On behalf of our partners Unifrance and European Film Promotion, the Festival will continue to operate all aspects of the market for those industry personnel who will be proceeding with their plans to attend. We understand and respect the decision of those who choose not to engage in international air travel at this time, and will instead look forward to their attendance at a future event."
Earlier in the day Unifrance sent a note to buyers in which it said Unifrance and EFP staff would not be attending the market, adding later that as publicly funded bodies, both Unifrance and EFP preferred to "follow instructions from the French and European administrations."
France is one of several countries in Europe that has imposed restrictions to contain the spread of the virus, for example limiting the size of public gatherings to 5,000.
Coronavirus has already made international festivals, markets, and other trade events cancel or postpone their upcoming editions, while more and more corporations are directing staff not to travel to major industry gatherings.
It is understood Miami Film Festival is expecting roughly 75% of market attendees who initially confirmed they would come to show up next week.
The Mercado de Cine Francés y Europeo will showcase a line-up of new European and French cinema from what was initially forecast to be 22 French and European sales agents for 40 buyers from 35 companies throughout Latin America.
Attending sellers are expected to present exclusive footage and promos for upcoming features at the market hub at Eurostars Langford Hotel in downtown Miami. Market screenings at the festival's Silverspot Cinema will showcase 10 films from France, and a further 10 from Spain, Italy, Sweden, Austria, the Czech Republic, Denmark, Finland, Greece, and Slovak Republic.
The Miami Film Market is financially supported by EFP/Creative Europe MEDIA, Unifrance, and the Miami Film Festival.