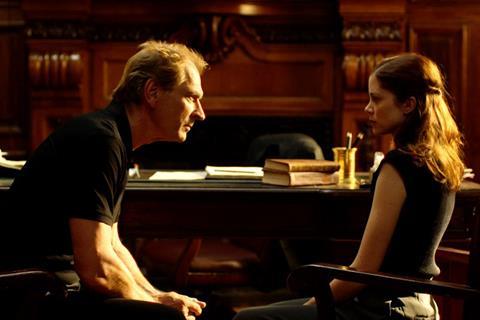 Millennium Media has closed a raft of key sales on Erlingur Thoroddsen's The Piper, a dark retelling of the Pied Piper legend starring Julian Sands and Charlotte Hope.
The story of a young composer who is given the opportunity of a lifetime has gone to Metropolitan (France), Telepool (Germany), Studiocanal (Australia/New Zealand), Eagle Films (Middle East), DFW (Benelux) and Vertice (Italy, Latin America, Portugal, Spain).
Rights have also closed with JoynContents (South Korea), Forum Film (Eastern Europe), Movie Cloud (Taiwan), Suraya (Malaysia), PT Amero (Indonesia), Viva (Philippines), Empire Entertainment (South Africa), Blue Lantern (Vietnam) and Top Film (CIS & Baltics).
Production took place last summer at Millennium's Nu Boyana studio and on location in Sofia, Bulgaria, on the story of a young musician who gets a seemingly dream assignment to complete her late mentor's concerto. However, she discovers that when the music is played it awakens an evil force.
Bernard Kira and Les Weldon are producing with Millennium Media's Yariv Lerner, Jeffrey Greenstein, Jonathan Yunger and Tanner Mobley. Executive producers include Avi Lerner, Boaz Davidson and Trevor Short.
Hope previously starred as Catherine of Aragon in Starz series The Spanish Princess and in Julian Fellowes' Netflix series The English Game and will next be seen in crime drama The Chelsea Cowboy and thriller Hiker.
Sands is known for A Room With A View and Leaving Las Vegas and upcoming credits include Phillip Noyce thriller Blood Relative, Terence Davies' Benediction and Mike Figgis' mystery Mother Tongue.
The Millennium team is in Cannes launching sales on SK Dale's (Till Death) sci-fi thriller Subservience, about an android domestic assistant that harbours murderous intentions.