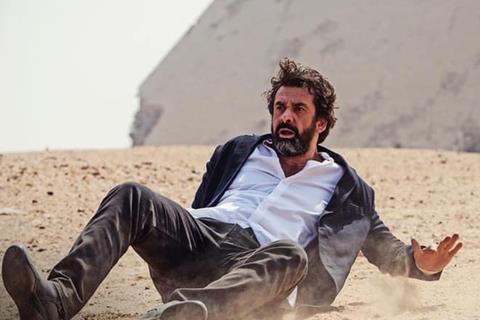 Egypt's Misr International Films (MIF) and Arab cinema promotional agency MAD Solutions have announced they are teaming to co-distribute worldwide record-breaking hit The Blue Elephant: Dark Whispers (El Feel-el Azra'a) as part of a new collaboration aimed at bolstering the international release of Egyptian features.
Also known simply as The Blue Elephant 2, the film is the sequel to Marwan Hamad's 2014 horror mystery drama starring Karim Aziz as a psychiatrist specialised in working with interned mental patients who are also criminals. The sequel sees him assigned to a female ward.
The new production reunites the director with Aziz as well as other original cast members including Nelly Karim. New cast additions include Hend Sabry, who was recently on the jury of the Venice Film Festival and is star of TIFF title Noura's Dream.
The feature is based on a novel by Ahmed Mourad, the author of a number of best-selling works that have adapted for film and TV including Diamond Dust and Vertigo. It was produced by Cairo-based Synergy Films.
Released on July 25 in Egypt, The Blue Elephant 2 has grossed a record $6m at home for an Egyptian film and has also drawn audiences in Iraq, Jordan, Lebanon, Saudi Arabia and the United Arab Emirates.
It has also generated pan-Arab social media buzz. Its dedicated online platform has 600,000 followers and the official trailer has registered nearly 20m online views.
Ramzi Khoury, deputy managing director of MIF, said the new collaboration with MAD Solutions was buoyed by his long-held belief that Egyptian features are capable of performing internationally.
"We believe that leveraging on MAD's wide exposure to the international market, as well as on its extensive marketing experience of Egyptian entertainment, will help position Egyptian content to where it can be," he said.
"What better way to kick off this collaboration than with the highest grossing Egyptian movie of all time," he added.
MAD Solutions CEO Alaa Karkouti said the collaboration with MIF marked a new step in its ambition to open up new international distribution channels for all kinds of high-quality Arab films.
"This can open hidden markets for Egyptian and Arab films and help rising Arab films of different genres on the international scene," he said.
MIF was founded in 1972 by late Egyptian filmmaker Youssef Chahine. Today, it is an integrated film and TV company working across production, distribution and exhibition processes.
Created in 2010 by Karkouti and Maher Diab, MAD Solutions is the first pan-Arab independent studio and fully integrative marketing, film distribution and creative consultancy for the Arab film and entertainment industry.