Sing-a-long re-release will mark 40th anniversary; Monty Python troupe to film special introduction.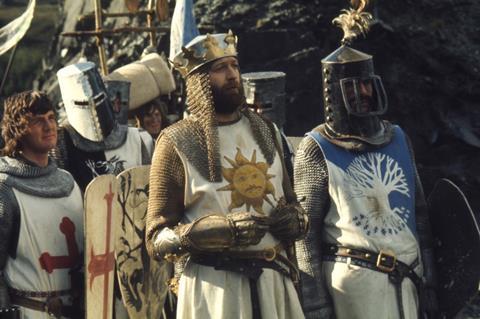 Monty Python and the Holy Grail is to be screened in 500 UK cinemas for one night only on Oct 14, marking the 40th anniversary of the comedy classic.
For the first time the film will also be shown in a brand new sing-a-long version and the screening will be accompanied by a specially filmed, exclusive introduction from Monty Python members Terry Jones, Terry Gilliam, Michael Palin, Eric Idle and John Cleese.
The distribution is being handled by Park Circus, which specialises in bringing classic titles back to the big screen.
In addition, Sony Pictures Home Entertainment will release a 40th anniversary edition of the film on Blu-ray this autumn.
Directed by Gilliam and Jones, the film parodies King Arthur's quest to find the Holy Grail with his band of knights.
The film spawned award-winning musical Spamalot, first staged on Broadway in 2005, written primarily by Idle.