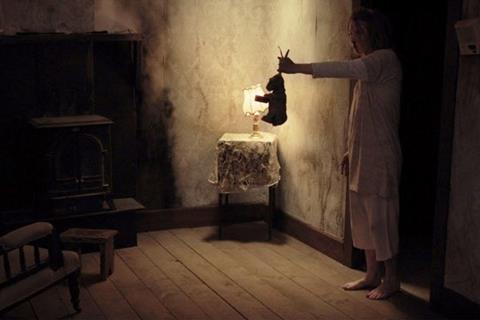 MPI Media Group has acquired worldwide sales right to Irish director Damian McCarthy's Frightfest selection Caveat and will introduce the film to buyers at the virtual AFM next month.
MPI's US genre arm Dark Sky Films has acquired all US rights to the film, which besides the London festival also screened recently at Screamfest in Los Angeles.
McCarthy's feature directorial debut takes place on a remote island where a man (Jonathan French, A Soldier's Voice) with partial memory loss accepts a job to take care of his landlord's troubled niece (Olga (Leila Sykes, Missing Something, Lancaster Skies).
The man must accept one condition: he must wear a leather harness and chain that restricts his movements to certain rooms. Left alone with his disturbed charge, the man discovers secrets in the house as his memory starts to return. Ben Caplan (Call The Midwife, Band Of Brothers) also stars.
MPI's SVP sales and acquisitions Nicola Goelzhaeuser and head of acquisitions and development Giles Edwards negotiated the Caveat deal with the producers. Dark Sky plans a US theatrical release in early 2021.
"Damian McCarthy's tension-filled feature debut marks the emergence of a major new talent, and we are thrilled to work with him," said Goelzhaeuser.
McCarthy is a two-time winner of the Melies d'Argent Award for Best European Short Film and his shorts credits include He Dies At The End, Hatch, Hungry Hickory, and Never Ever Open It.