Celebration! Cinemas CEO John D Loeks has been appointed chairman following the annual general meeting of the National Association Of Theatre Owners (NATO) in Washington from October 7-8.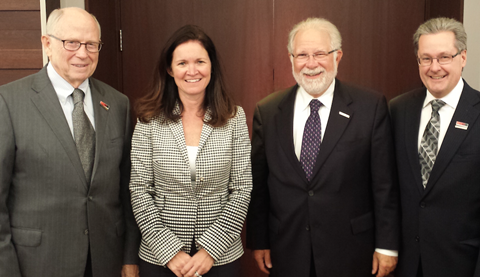 Three other volunteer members were voted to NATO's 17-strong executive board of directors.
Regal Entertainment Group CEO Amy E Miles was re-elected vice-chairwoman, Foothills Entertainment president Byron Berkley was re-elected treasurer and Logan Luxury Theatres president Jeff Logan was voted in as secretary.
"On behalf of our members, I want to thank our outgoing officers and executive board members and our new officers and board members for their service," said NATO president and CEO John Fithian.
"NATO's strength comes from its volunteer leaders and we are fortunate to have the dedicated service of the most talented people from across our industry."
(Photo, L-R: Byron Berkley, Amy E Miles, John D Loeks, Jeff Logan)