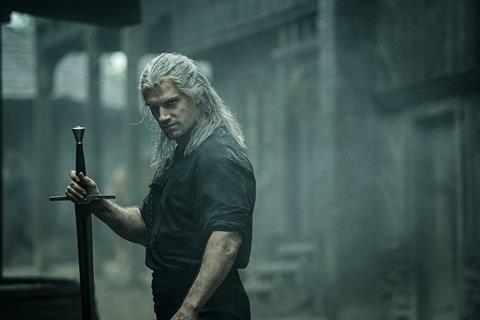 In its first financial results since the launch of Disney's competing streaming service, Netflix has reported an 8.76m global subscriber increase in the fourth quarter of 2019 for a total of 167.09m.
The streamer also said fantasy series The Witcher was "tracking to our biggest season one TV series ever."
Continuing a recent trend, global growth skewed internationally, with net increases of 8.33m subscribers in international regions but only 420,000 in the US. The additions pushed Netflix past the 100m subscriber mark outside the US to 106.5m. The US tally reached 61.04m.
The streaming pioneer said it had record subscriber growth in Europe, Latin America and Asia Pacific and that the slow growth in the US was "probably due to our recent price changes and to US competitive launches."
In EMEA, the addition of 4.42m paid subscribers took Netflix's total for the region to 51.78m; in Latin America, 2.04m additions led to a 31.42m total; and in Asia Pacific, 1.75m gains resulted in 16.23m.
In the company's letter to shareholders accompanying the results, Netflix noted the recent launches of Disney+ and Apple TV+ but said that globally competition for streaming viewers is "still in its early stages, leaving ample room for many services to grow as linear TV wanes. We have a big head start in streaming and will work to build on that by focusing on the same thing we have focused on for the past 22 years – pleasing members. We believe if we do that well, Netflix will continue to prosper."
In a webcast interview about the results, Netflix CEO Reed Hastings played down the effect Disney+ might have on Netflix. The Disney streaming service, Hastings said, is "primarily going to take away from linear TV and takes away a little bit from us. But most of the growth in the future is coming out of linear TV."
Hastings also linked Netflix's strong showing in this year's Oscar nominations – the company scored 24 nods, more than any other studio – to its ability to attract talent. By gaining a reputation for winning awards, said Hastings, "we will win deals that we wouldn't have otherwise won for incredibly entertaining content. So think of all of our awards work as a really smart way to make us the best home for talent in the world."
Netflix chief content officer Ted Sarandos, meanwhile, claimed that the disappearance of Friends from the Netflix line-up (the hit sitcom will now appear on WarnerMedia's upcoming HBO Max streaming service) has had minimal effect on the service. "Nothing that we've seen or could measure," Sarandos said in the earnings interview.
Highlighting the performances of some recent series, Netflix estimated that in its first four weeks the third season of The Crown was watched by more than 21m member households, up over 40% from the tally for season two of the show over the same time period.
Launched in December, new fantasy series The Witcher is "tracking to our biggest season one TV series ever," Netflix said, with 76m member households watching the show through its first four weeks of release.
Among new features, Netflix said Michael Bay's 6 Underground drew 83m member households in its first four weeks, and Klaus, the streamer's first original animated feature, 40m members in its first 28 days.
Netflix also revealed a change in its viewing measurement system, previously based on a household watching 70% of a series or film. The streamer's new methodology, like that of the BBC iPlayer, is based on "'requests' for the title, 'most popular' articles on The New York Times which include those who opened the articles, and YouTube view counts."