Bleecker Street to partner with Netflix to distribute Cary Fukunaga's Beasts Of No Nation theatrically.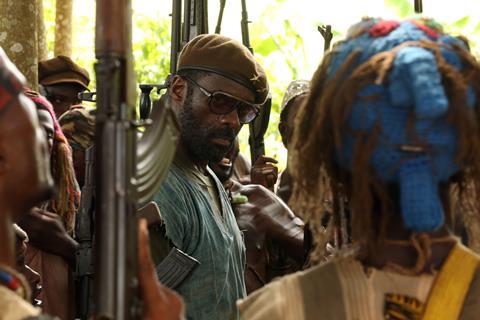 Netflix has announced that the rollout of its original film initiative will begin with Beasts Of No Nation, the new film written and directed by Cary Fukunaga (True Detective, Sin Nombre) starring Idris Elba (Luther, Mandela: Long Walk to Freedom).
The film will debut on October 16 worldwide on Netflix in all territories where the internet TV network is available and on the same day in select US theatres.
Andrew Karpen's New York-based Bleecker Street will distribute the film theatrically. The deal builds on the relationship between Karpen and Fukunaga from the days when the former was co-CEO at Sin Nombre and Jane Eyre distributor Focus Features.
Bleecker Street, backed by 5-Hour Energy founder Manoj Bhargava, has established early ties with the entertainment world's digital titans. It will serve as theatrical distributor on Elvis & Nixon, which Amazon Studios recently snapped up for US digital release, and has struck a pay-TV deal with Amazon.
It is understood Bleecker Street's theatrical role on such films will be considered on a case-by-case basis. The theatrical release for Beasts Of No Nation will qualify the film for awards consideration, however financial success remains uncertain given that most major exhibitors will reportedly not take the film because Netflix will stream it day-and-date.
Amazon Studios plans to premiere its films theatrically followed by exclusive airing on Amazon Prime Instant Video 30-60 days later.
Beasts Of No Nation is based on the experiences of Agu, a child soldier fighting in the civil war of an unnamed African country, and is an adaptation of the acclaimed novel by Nigerian author Uzodinma Iweala.
Newcomer Abraham Attah plays Agu while Elba takes the role of Commandant, a warlord who takes in the youngster and instructs him in the ways of war.
Producers are Amy Kaufman and Fukunaga (who previously worked together on Sin Nombre), Daniela Taplin Lundberg, Riva Marker and Dan Crown for Red Crown Productions, along with Elba.
Executive producers are Jeff Skoll and Jonathan King for Participant Media and Donna Gigliotti is executive producer for Levantine Films.
The Ridiculous Six will be the first of four Adam Sandler films available only on Netflix. The film stars Sandler, Terry Crews, Jorge Garcia, Taylor Lautner, Rob Schneider, Luke Wilson and Nick Nolte.
The comedy Western will premiere exclusively for Netflix members on December 11. Directed by Frank Coraci (The Wedding Singer) and written by Tim Herlihy (Pixels) and Sandler, it is a Happy Madison Production produced by Sandler and Allen Covert.
Martial arts sequel Crouching Tiger, Hidden Dragon: The Green Legend will be released theatrically in China and on IMAX and on Netflix globally in Q1 2016.
Adventure comedy Pee-wee's Big Holiday will premiere on Netflix in March 2016.
Judd Apatow and Pee-wee star Paul Reubens worked together to bring the project to fruition and produced the film, which was written by Reubens and Paul Rust. John Lee directs.
Netflix now boasts more than 62 million members in over 50 countries and claims to stream more than 100 million hours of TV shows and movies per day, including original series, documentaries and feature films.