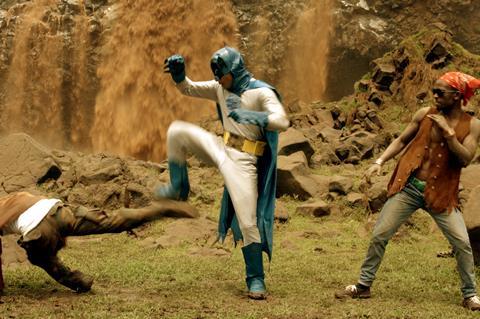 Switzerland's Neuchâtel International Fantastic Film Festival (NIFFF) has unveiled the programme for its 2019 edition (July 5 – 13), with a line-up including 90 feature films.
Among the 16 titles playing in the International Competition strand is the world premiere of Spanish director Miguel Llansó's Jesus Shows You The Way To The Highway, about two CIA agents tasked with destroying a computer virus called 'Soviet Union'.
Scroll down for the full line-up
The film is Llansó's first since 2015's Crumbs, which premiered at International Film Festival Rotterdam and subsequently won the Imaging the Future prize at NIFFF that year.
Also in competition are the international premieres of Blaise Harrison's Cannes Directors' Fortnight film Particles, about a man noticing strange environmental phenomena in winter; and Carlo Mirabella-Davis' Swallow, for which Haley Bennett won the best actress – US narrative award at Tribeca Film Festival last month for playing a pregnant housewife who is drawn to eating dangerous objects.
The competition films will compete for the H.R. Giger Narcisse award of 10,000 CHF ($10,135), provided by the City of Neuchâtel.
The festival's 'New Cinema From Asia' strand will host eight titles, including the Swiss premieres of Takashi Miike's Cannes 2019 title First Love and Zhang Yimou's Venice 2018 selection Shadow.
Other sections include 14 thriller and fantasy features in 'Films Of The Third Kind'; and 10 features exhibiting 'the strangest aspects of genre cinema' in 'Ultra Movies'.
The NIFFF Invasion strand hosts an open air section, combining screenings of cult classics including Ridley Scott's 1979 Alien and Quentin Tarantino's 1994 Pulp Fiction with interactive installations across the city.
Earlier this month NIFFF announced two Cannes 2019 titles to bookend the festival. Quentin Dupieux's Directors' Fortnight selection Deerskin (recently acquired for UK distribution by Picturehouse Entertainment) will begin the event; with Lorcan O'Finnegan's Irish sci-fi Vivarium, which won the Support for Distribution prize in Critics' Week, closing the festival.
It also unveiled the programme for its industry section NIFFF Extended last month, with events including a panel looking at the use of visual effects to digitally recreate actors.
NIFFF 2019 festival programme
International Competition
Bacurau - Kleber Mendoça Filho & Juliano Dornelles, Braz/Fr
Come To Daddy - Ant Timpson, NZ/Can/Ire/US
Daniel Isn't Real - Adam Egypt Mortimer, US
Extra Ordinary - Mike Ahern & Enda Lougham, Ire/Bel
His Master's Voice - György Pálfi, Hun/Can
Jesus Shows You The Way To The Highway - Miguel Llansó, Eth/Spa/Est
Knives And Skin - Jennifer Reeder, US
Les Particules - Blaise Harrison, Switz/Fr
Des Villes Disparues - Denis Côté, Can
Something Else - Jeremy Gardner & Christian Stella, US
Sons Of Denmark - Ulaa Salim, Den
Swallow - Carlo Mirabella-Davis, US/Fr
The Hole In The Ground - Lee Cronin, Ire
The Lodge - Veronika Franz & Severin Fiala, UK/US
The Room - Christian Volckman, Fr/Bel/Lux
Yves - Benoît Forgeard, Fr
New Cinema From Asia
First Love - Miike Takashi, Jap/UK
Fly By Night - Zahir Omar, Mal
Fly Me To The Saitama - Takeushi Hideki, Jap
Reside - Wisit Sasanatieng, Thailand
Shadow - Zhang Yimou, China/HK
The Fable - Kan Eguchi, Jap
The Gangster, The Cop, The Devil - Lee Won-Tae, S Korea/US
The Prey - Jimmy Henderson, Cam
Films Of The Third Kind
7 Reasons To Run Away (From Society) - Gerard Quinto, Esteve Soler & David Torras, Sp
Abou Leila - Amin Sidi-Boumédiène, Alg/Fr/Qat
Achoura - Talal Selhami, Fr/Mor
Dogs Don't Wear Pants - Jukka-Pekka Valkepää, Fin/Lat
Feedback - Pedro C. Alonso, Sp/US
Freaks - Zach Lipovsky & Adam B. Stein, Can/US
Les Fauves - Vincent Mariette, Fr
Romulus & Remus: The First King - Matteo Rovere, It/Bel
Skin - Guy Nattiv, US
Swoon - Måns Mårlind & Björn Stein, Swe
The Beach Bum - Harmony Korine, UK/Fr/US/Switz
We Are Little Zombies - Nagahisa Markoto, Jap
Werewolf - Adrian Panek, Pol/Ger/Neth
X — The Exploited - Károly Ujj Mészáros, Hun
Ultra Movies
Bliss - Joe Begos, US
Exterminadores Do Além Contra A Loira Do Banheiro - Fabrício Bittar, Braz
Girls With Balls - Olivier Afonso, Fr/Bel
Riot Girls - Juvanka Vuckovic, Can
Rise Of The Machine Girls - Kobayashi Yuki, Jap
The Legend Of The Stardust Brothers - Tezka Makoto, Jap
The Pool - Ping Lumpraploeng, Thailand
Tone-Deaf - Rickard Bates Jr., US
Tous Les Dieux Du Ciel - Quarxx, Fr
Why Don't You Just Die? - Kirill Sokolov, Rus
El Dorado
Breve Historia Del Planeta Verde - Santiago Loza, Arg/Ger/Braz/Sp
Monos - Alejandro Landes, Col/Arg/Neth/Ger/Swe/Uru
Morto Não Fala - Dennison Ramalho, Braz