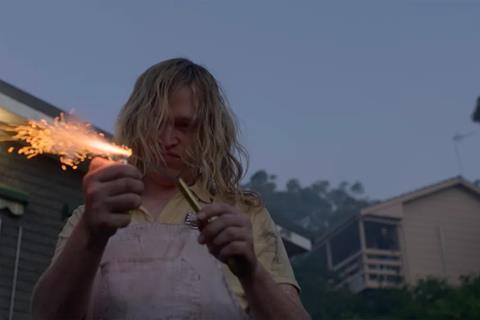 Nitram won eight prizes including best film at the Australian Academy of Cinema and Television Arts (AACTA) awards, held across two nights (December 2 and 8) at the Sydney Opera House.
The drama also won best director for Justin Kurzell, best original screenplay for Shaun Grant, as well as all four actor categories, for leads Caleb Landry Jones and Judy Davis, and supporting actors Anthony LaPaglia and Essie Davis.
Scroll down for selected winners
Nitram was the first Australian film since 2011 to be selected in the main competition in Cannes this year, where Jones also won best actor. He plays mass shooter Martin Bryant, who committed the most deadly massacre in Australian history at Port Arthur, Tasmania in 1996.
Accepting the award for best film, producer Nick Batzias said: "I am grateful I live in a place where art can rub up against difficult things."
Other Australian films to win awards included Ellie And Abbie (& Ellie's Dead Aunt), which won best independent film, and The Dry, which won best screenplay for Robert Connolly and Harry Cripps.
AACTA president Russell Crowe said at the beginning of the ceremony that the winners could be "as political as they wanted to be and have to be" – providing they stuck to the 30-second limit for speeches – but few took up the opportunity. Those that did, including Fires co-creator Belinda Chakyo, spoke of the need to care for the environment and treat climate change seriously.
The late actor David Gulpilil won the Longford Lyell Award. The masked audience gave a standing ovation following a moving tribute to Gulpilil from actor Jack Thompson and director Rachel Perkins. His last film, My Name Is Gulpilil, won the award for best documentary. His image is currently being projected on the Sydney Opera House sails.
AACTA awards 2020 - selected winners
Film – Nitram, dir. Justin Kurzel
Director – Justin Kurzel, Nitram
Adapted screenplay – Rob Connolly, Harry Cripps, The Dry
Original screenplay – Shaun Grant, Nitram
Lead actress – Judy Davis, Nitram
Lead actor – Caleb Landry Jones, Nitram
Indie film – Ellie and Abbie (& Ellie's Dead Aunt), dir. Monica Zanetti
Cinematography – Stefan Duscio, The Dry
Costume design – Erin Roche, High Ground
Editing – Nick Fenton, Nitram
Supporting actress – Essie Davis, Nitram
Supporting actor – Anthony LaPaglia, Nitram
Production design – Naaman Marshall, Mortal Kombat
Original score – Christopher Gordon, June Again
Sound – Robert McKenzie, James Ashton, Des Kenneally, Adrian Medhurst, Jed Dodge, Phil Heywood, Mortal Kombat
Casting – Anousha Zarkesh, High Ground
Visual Effects or Animation – Will Reichelt, Simon Pickard, Simon Whiteley, Fiona Chilton, Jason Bath, Matt Middleton, Animal Logic, Peter Rabbit 2
Documentary – My Name Is Gulpilil, dir. Molly Reynoles