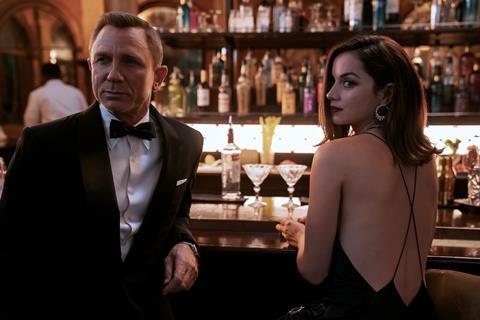 James Bond spy thriller No Time To Die has been postponed from November to a global launch in April 2021 in light of the pandemic and in particular surges in key western European markets.
The latest postponement of a major 2020 tentpole marks another blow for the beleaguered exhibition sector.
It comes as Covid-19 infection levels rise in western Europe including the UK. The critical market for the film has typically contributed a major portion of 007's international box office grosses, generating an unadjusted $125m for Spectre (2015) out of $681m internationally, and $161m from $804m for Skyfall (2012).
Surges in Spain, France, and Germany are also understood to have played a part in the decision, announced on Friday (October 2).
A grim overall picture sees Latin America continue to struggle, while uncertainty remains over when cinemas in New York and Los Angeles will reopen in the US.
"MGM, Universal and Bond producers, Michael G Wilson and Barbara Broccoli, today announced the release of No Time To Die, the 25th film in the James Bond series, will be delayed until 2 April 2021 in order to be seen by a worldwide theatrical audience," read a statement release by MGM.
"We understand the delay will be disappointing to our fans but we now look forward to sharing No Time To Die next year."
April 2, 2021 is also the revised US release date for Universal's F9.
MGM handles US distribution through its UAR joint venture with Annapurna and had set the US release for November 20, alongside Japan.
The UK release was scheduled for November 12 – the same day as many other key markets including Australia, Italy, and Spain – through the film's international distributor Universal Pictures.
Cary Joji Fukunaga directs Daniel Craig in his final outing as 007. Ana de Armas, Rami Malek, Léa Seydoux, Naomie Harris, and Ralph Fiennes also star.
No Time To Die was originally scheduled to open in April of this year and became the first major casualty of the pandemic when MGM announced it was postponing until November.