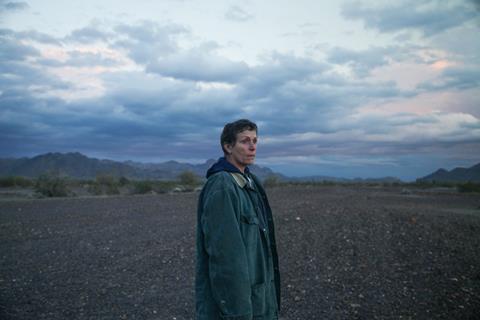 Searchlight Pictures will launch its heavyweight Oscar contender Nomadland in an exclusive IMAX window later this month, followed by a day-and-date February release in US cinemas, drive-ins, and on Hulu.
Chloé Zhao's drama starring Frances McDormand will open in IMAX on January 29, before the simultaneous roll-out in US cinemas, drive-ins and on Hulu on February 19.
Searchlight and Hulu are both owned by Disney.
The film about a woman's existence among communities on the fringes of society will roll out internationally in spring.
Nomadland has just concluded a limited preview in Australia and New Zealand ahead of the official March 4 launch.
All details are subject to change due to the pandemic.
The film has been a critical darling ever since it premiered in Venice last year, where it won the Golden Lion for Best Film. Shortly after that it took the People's Choice Audience Award at Toronto International Film Festival.
Zhao's drama qualified for awards consideration last year with a one-week virtual run through Lincoln Center, and continues to gather momentum in awards season.
Among other accolades it was recently named best film at the Gotham Awards and National Society Of Film Critics vote. Both the Los Angeles Film Critics Association and New York Film Critics Circle named Zhao best director.
Cinematographer Joshua James Richards has won several awards including National Society Of Film Critics.