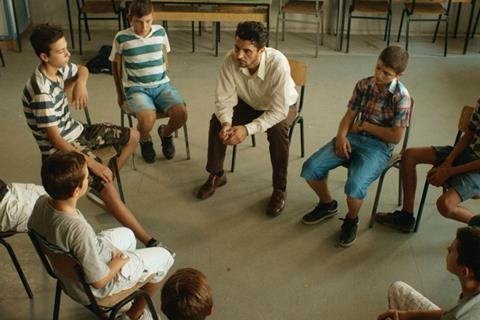 The nominees for the Nordic Council Film Prize were announced Tuesday night at the opening of New Nordic Films during the 45th Norwegian Film Festival in Haugesund.
The five nominated films are Hunting Flies by Izer Aliu from Norway; Parents by Christian Tafdrup from Denmark; Little Wing by Selma Vilhunen from Finland; Heartstone by Guðmundur Arnar Guðmundsson from Iceland, and Sami Blood by Amanda Kernell from Sweden. The 14th annual prize, selected by a jury, will be announced Nov 1 with a lucrative $55,000 (DKK 350,000) award.
On the eve of Haugesund, the local Amanda awards saw Erik Poppe's World War 2 drama The King's Choice triumph with a record seven prizes. But newcomer Izer Aliu beat him for the best director prize for his film Hunting Flies, which premiered at Toronto 2016.
Oslo16 launch plans
Also in Haugesund, Olso-based filmmaker and entrepreneur Jan Vardøen revealed his plans to build an independent film hub is Olso called Oslo16 to open by the end of the year.
The film centre, housed in a former museum, will include up to 35 editing rooms, sound studios, grading suites and offices as well as an 80-seat cinema, restaurant and jazz club. "The idea is to create an environment for young independent filmmakers," he told Screen. The hub will be more for mentoring, advice and offering equipment than financing films. "I'm getting as much help as I can from the film business. There is a lot of enthusiasm for it."
Vardøen is also renovating Frogner Kino, a 1926 movie palace that will now seat about 400 people and show programmes for youth school groups during the days and arthouse films during the evenings. He plans to reopen it in March 2018.
Through his company Beacon Isle Films, he is also directing a feature documentary called A Descent into the Maelstrom, a project that is inspired by Edgar Allan Poe's short story of the same name based in Lofoten, northern Norway.
That story inspired Philip Glass's 66-minute choral work, which Vardoen plans to stage in June 2018 in Lofoten with the Arctic Philharmonic Orchestra and Choir, with the music to be used alongside documentary footage of the local citizens reflecting on global themes.
The Northwoods gears up for 2018 shoot
The Northwoods, which was pitched at Haugesund's Co-Production Market, is currently scouting in Western Norway with an eye to start shooting in early 2018.
Canadian producers, Jeff Pangman, Daniel Quinn, Evan Landry, and David Hudakoc have signed a co-production deal with Einar Loftesnes & Kjersti Rasmussen of Bergen based Filmkompaniet MadMonkey.
Canada's Emma Higgins will maker her feature directorial debut with the story about two sisters who return to their childhood home in Norway after the death of their father. On a trek thorough a local forest, they discover they are being hunted by humans and creatures.
Hudakoc's distribution outfit levlFILM has acquired Canadian rights as part of the deal.