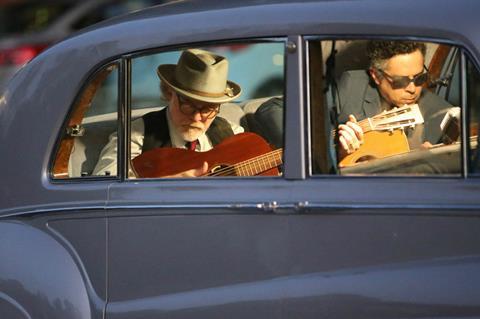 In a preemptive acquisition, Oscilloscope has picked up North American theatrical rights to Eugene Jarecki's The King ahead of its Sundance premiere on January 25.
Executive Producer Steven Soderbergh will join Jarecki in Park City to discuss the US-Germany-France co-production, which the distributor will release this year after an early version premiered in official selection in Cannes last summer.
Forty-one years after the death of Elvis Presley, The King sees Jarecki take the entertainer's 1963 Rolls-Royce on a musical road trip across America, from Memphis to New York to Las Vegas.
Alec Baldwin, Rosanne Cash, Chuck D, Emmylou Harris, Ethan Hawke, Van Jones, Mike Myers, and Dan Rather, are among featured celebrities.
"We are thrilled to be working with Oscilloscope," Jarecki said. "This is a time for real soul-searching in America. We've got to change the national conversation from the noise of the Trump news cycle to something deeper about who we are. For this, the film needs an innovative, athletic, and breakout release. We can't imagine a better partner than Oscilloscope to make that happen."
O-scope's Dan Berger added, "Jarecki has masterfully crafted the most far-reaching look at the current state of the nation and how we got here. It's equal parts music film and road movie, biopic and investigative journalism. We could not be more passionate to bring Eugene's inspiring vision to a country that needs it."
"For me," Soderbergh said, "Eugene's uniquely kaleidoscopic approach reaches a new level here; his take on the current, complex collision taking place at the intersection of politics and culture is as purely entertaining as it is relentlessly provocative. It's not just a conversation starter, it's an argument starter."
Christopher St. John and David Kuhn produced. The King was produced in association with NDR/BR/Backup and is an ITVS co- production that will premiere on the PBS series Independent Lens as part of the 2018-2019 season.
UTA Independent Film Group negotiated the deal on behalf of the filmmakers.