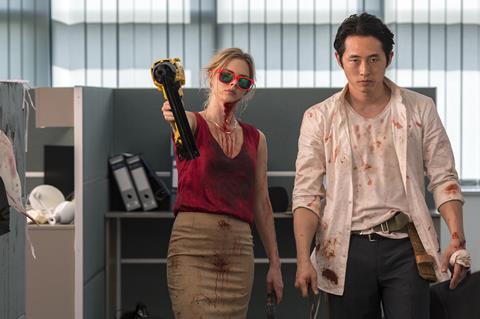 Jack Campbell's Octane Entertainment arrives at the AFM with five new sales titles including thriller Midnighters from The Walking Dead director Julius Ramsay.
The story follows a couple in a strained marriage who become trapped in a Hitchcockian web of deceit when they are forced to cover up a crime on New Year's Eve. Alex Esso, Perla Haney-Jardine and Ward Horton star. IFC Midnight distributes in the US.
Campbell said he had closed a raft of previously unannounced sales on Joe Lynch's action-thriller Mayhem led by deals with the UK (AMC Networks' Shudder) and Japan (New Select).
Deals also closed in France (Program Store), German-speaking Europe (Morefilms/Studio Hamburg), Benelux (Premiere TV), pan-Asia (Fox), Philippines (ABS-CBN), and South Korea (Doki).
Steven Yeun from The Walking Dead stars alongside Samara Weaving from Ash vs Evil Dead in the story about a young attorney trapped inside a corporate tower where an airborne virus is spreading rage. Steven Brand and Dallas Roberts also star.
Matias Caruso wrote the screenplay. Avva Pictures' Mehrdad Elie and Parisa Caviani produced with Circle Of Confusion's Lawrence Mattis and Matt Smith.
Other projects
Campbell also represents worldwide rights to psychological horror St. Agatha from Saw franchise director Darren Lynn Bousman, which centres on a pregnant con artist who seeks refuge in a desolate convent only to encounter an evil force within. Newcomer Sabrina Kern stars alongside Carolyn Hennesy and Courtney Halverson.
Noir-thriller A Crooked Somebody from director Trevor White stars Ed Harris, Clifton Collins Jr., Joanne Froggatt, Rich Sommer, and Amy Madigan. The story tells of an attention-seeking psychic who kidnapped and tries to use the situation to boost his popularity. Vertical Entertainment holds US rights.
Vampire thriller Corbin Nash about a rogue police who is murdered and reborn stars Dean S. Jagger, Corey Feldman, Malcolm McDowell, Rutger Hauer and Bruce Davison. ICM Partners represents US rights.
The Houses October Built 2 returns to the world of extreme haunts and is produced by Zack Andrews (The Houses October Built) and Insidious and Paranormal Activity series executive producer Steven Schneider. RLJE Films holds US rights.