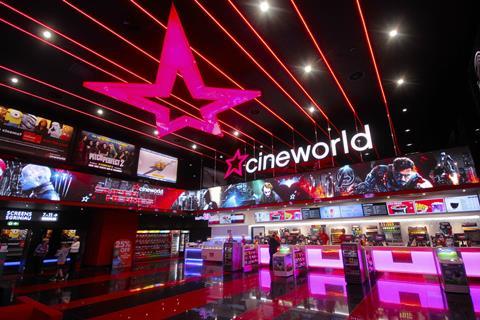 The UK's leading cinema chains are closing their doors following government advice over the coronavirus pandemic.
Odeon, which is owned by AMC Theaters and has 122 sites in the UK and 11 in Ireland, issued a statement today that said: "Following government guidelines Odeon cinemas are closed until further notice."
In addition, UK exhibition chain Cineworld and its boutique arm Picturehouse is closing all cinemas across the UK starting from tomorrow (March 18) and Ireland from today until further notice.
A statement from the company said: "This decision was made in light of the current coronavirus (COVID-19) outbreak and recent UK government advice, which the company has been carefully monitoring and following."
Cineworld is the world's second largest exhibitor and operates 102 cinemas in the UK and Ireland, and more than 1,030 screens.
Picturehouse Cinemas own and operate 25 neighbourhood cinemas and programme a further 40 venues across the UK.
Cineworld Group CEO, Mooky Greidinger said: "At Cineworld and Picturehouse, we are committed to providing safe and healthy environments for our employees and guests and have therefore made the difficult decision to close our cinemas in UK and Ireland until further notice.
"We deeply value our cinema-loving customers and have no doubt we will be serving everyone again as soon as possible with a full slate of Hollywood blockbusters and the best of independent films and content."
Vue will also close all its 91 cinemas throughout the UK and Ireland, comprising 870 screens, from today.
A statement from the exhibitor said: "Since the first news of the COVID-19 outbreak, we have been doing everything we can to provide a high quality, enjoyable and safe big screen experience for our customers. However, in line with the UK government's latest public health advice, we will be closing all our venues in the UK and Ireland from today, March 17, until further notice."
The move came a day after UK prime minister Boris Johnson advised people to avoid such venues, while stopping short of forcing venues to close, as coronavirus spreads.
The UK box office has already felt the impact of COVID-19 and advice over "social distancing". The takings for the top five titles over the weekend was £3.31m – down from £6.47m the previous weekend.
UK Cinema Association CEO Phil Clapp said his focus was now on helping people who work in the exhibition sector. "Mindful of the latest scientific advice from the government, the coming days will see the closure of most UK cinema sites," said Clapp.
"The priority now is to ensure that the thousands who work in the sector, many of them young people, are helped during what will be an exceptionally challenging period for them, and that cinema venues across the country are supported to overcome what for many will represent an unprecedented challenge to their existence."
He reiterated that his organisation's priority will be "ensuring that that support is put in place".
On this issue, the statement from Vue said: "As you would expect, we are also doing our part by putting employment policies in place so that our staff are protected and are not penalised financially."