Actor best known for roles in Lawrence of Arabia and Doctor Zhivago.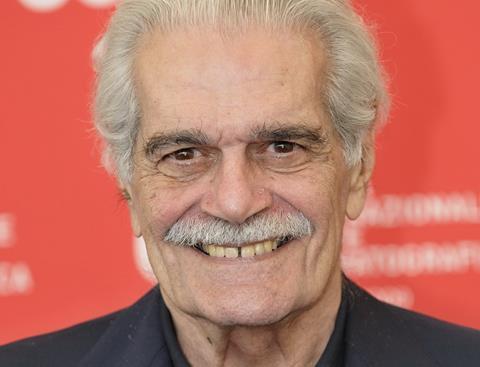 Actor Omar Sharif has died aged 83. The Egypt-born actor, who had stepped away from acting since being diagnosed with Alzheimer's disease, died following a heart attack this afternoon in a hospital in Cairo.
Sharif won two Golden Globes and an Oscar nomination for his role as Sherif Ali in David Lean's 1962 epic Lawrence of Arabia.
He won a further Golden Globe three years later for Doctor Zhivago.
Sharif was born Michel Demetri Chalhoub in Alexandria on April 10, 1932, and studied acting at the Royal Academy of Dramatic Art in London.
Sharif began his acting career in 1953 with a role in romantic drama Sira` Fi al-Wadi before appearing in more than 20 Egyptian productions, including Ayyamna el helwa with singer Abdel Halim Hafez, La anam (1958), Sayedat el kasr (1959) and Anna Karenina adaptation Nahr el hub (1961). He also starred with his wife, Egyptian actress Faten Hamama, in several movies.
Sharif's first English-language film and international breakthrough was in Lawrence of Arabia, which led to a variety of roles including a Spanish priest in Behold a Pale Horse (1964), a Yugoslav wartime patriot in The Yellow Rolls-Royce (1964) and the Mongolian conqueror in Genghis Khan (1965).
Sharif reunited with Lean to play the title role in Doctor Zhivago in 1965.
He went on to star as a German military officer in The Night of the Generals, as Crown Prince Rudolf of Austria in Mayerling and as Che Guevara in Che!.
Sharif was also acclaimed for his performance as a New York Jewish gambler in Funny Girl, opposite Barbra Streisand. He reprised the role in the film's 1975 sequel, Funny Lady.
Among his other films were the western Mackenna's Gold, thriller Juggernaut and romantic drama The Tamarind Seed, co-starring Julie Andrews, directed by Blake Edwards.
Sharif also made comic cameo performances in Edwards' The Pink Panther Strikes Again and 1980 spoof Top Secret!.
In 2003, he received acclaim for his role in the French-language Monsieur Ibrahim and won a Career Golden Lion that same year at the Venice Film Festival.
His final on-screen performances came in 2013 releases A Castle In Italy, in which he played himself, and family drama Rock The Casbah.
Sharif's voice will be heard in upcoming animation short 1001 Inventions and the World of Ibn Al-Haytham.