Rachid Bouchareb directing multi-language project from Larry Gross screenplay.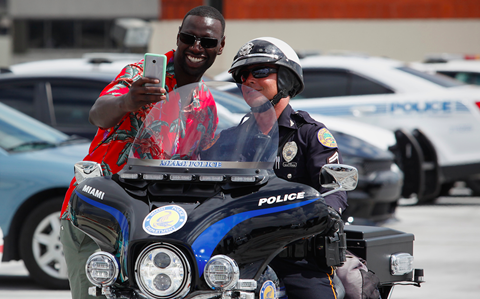 Patrick Wachsberger and his Lionsgate International team have begun talks with buyers on Rachid Bouchareb's multi-language action comedy Belleville Cop starring Omar Sy.
Production has begun in Paris on the story of Baaba, a police officer who has refused promotions so he can continue to work in his beloved working class neighbourhood.
When a childhood friend from Miami gets killed after he comes to warn of encroaching drug gangs, Baaba moves to Miami and teams up with a local officer to bring down the criminals.
Sy, who broke out in 2012 smash Intouchables, stars with Luis Guzman, Algerian actress Biyouna, Julie Ferrier, Franck Gastambide and Diem Ngyen. Another 48 Hrs. co-writer Larry Gross wrote the screenplay.
Davis Films' Samuel Hadida will produce Belleville Cop with Tessalit Films, and Hadida's Metropolitan FilmExport will distribute in France in late spring 2018 and holds US rights.
"We are thrilled to be working with our long-time partners, Metropolitan, on this fun and exciting buddy cop film taking place in Paris and Miami," Lionsgate's motion picture group chairman Wachsberger and executive vice-president of international sales Crystal Bourbeau, who brought the project to Lionsgate.

"This multi-lingual film is a new and fresh take on the classic buddy cop genre sure to entertain audiences worldwide,"
Hadida added: "When I first read Larry Gross's script, I knew this was special, a cross between 48 Hours and Rush Hour. Combined with Rachid Boukchareb's unique vision, it is an updated buddy movie for today's sensibilities.

"Omar Sy brings his extraordinary skills to the mix, together with Luis Guzman, and we truly have something entirely new and fresh. I am thrilled at the opportunity to be involved with this amazing team and to bring their remarkable creativity to worldwide film audiences."
Bouchareb competed for the Palme d'Or with Outside The Law and Indigenes, for which he shared the Cesar for best screenplay.