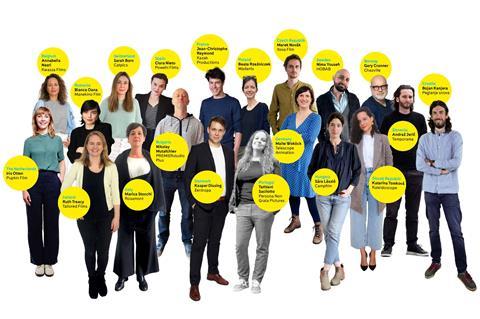 The producer of Oscar winner Another Round is among those selected for European Film Promotion's (EFP) networking platform Producers on the Move, which will again take place online.
The 20 producers selected for this year's programme would usually gather at the Cannes Film Festival and take part in meetings, roundtable sessions and case studies. But although Cannes has committed to host a physical festival in July, EFP will run the programme online from May 17-21 to avoid possible pandemic restrictions.
Among this year's line-up is Kasper Dissing, the Danish producer of Thomas Vinterberg's Another Round, which picked up four European Film Awards and the Academy Award for best international feature film.
More than half of this year's selection are women, including Hungary's Sára Laszlo, producer of war drama Natural Light, which won the Silver Bear for director Denes Nagy at this year's Berlin International Film Festival.
Others include Italy's Marica Stocchi, who produced Venice award-winner The Macaluso Sisters; Sweden's Nima Yousefi, producer of Cannes award-winner A White, White Day; and Romania's Bianca Oana, who produced Berlinale 2018 Golden Bear winner Touch Me Not.
″We decided to shift our programme again to the digital space this year," said EFP managing director Sonja Heinen. "It worked very well last year, and it was important for us to give the participants a clear sense of planning that wouldn't be dependent on how the pandemic situation develops.
"And, who knows, if all goes well and many of the Producers on the Move are able to make the journey, we might even have a chance of meeting in person at the festival in Cannes in July."
The programme is backed by the European Union's Creative Europe – MEDIA programme and Eurimages, and supported by 20 of EFP's film promotion institutions, including German Films, UniFrance and Screen Ireland.
Producers on the Move 2021
Annabella Nezri (Belgium)
Nikolay Mutafchiev (Bulgaria)
Bojan Kanjera (Croatia)
Marek Novák (Czech Republic)
Kasper Dissing (Denmark)
Jean-Christophe Reymond (France)
Maite Woköck (Germany)
Sára László (Hungary)
Ruth Treacy (Ireland)
Marica Stocchi (Italy)
Iris Otten (Netherlands)
Gary Cranner (Norway)
Beata Rzeźniczek (Poland)
Tathiani Sacilotto (Portugal)
Bianca Oana (Romania)
Katarína Tomková (Slovak Republic)
Andraž Jerič (Slovenia)
Clara Nieto (Spain)
Nima Yousefi (Sweden)
Sarah Born (Switzerland)