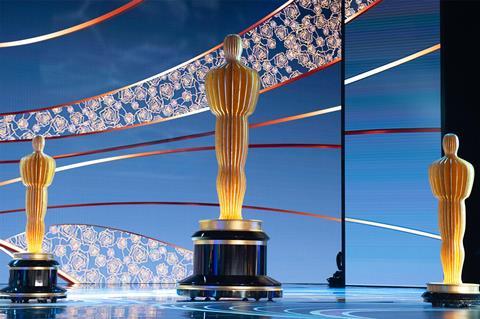 The upcoming 94th Academy Awards on March 27 will have a host for the first time in four years, it emerged during the Television Critics Association virtual press tour on Tuesday (January 11).
Hulu Originals & ABC Entertainment president Craig Erwich delivered the news during the ABC segment and said, "You heard it here first." ABC is the Oscars broadcaster and like the Academy is eager to buck a trend of declining ratings. Last year's event drew a record low 10.4m viewers after 23.6m in 2020.
The last person to host the Academy Awards was comic and talk show host Jimmy Kimmel in 2018, marking his second consecutive years in the gig. Comedian and actor Kevin Hart was scheduled to host the show in 2019 before he dropped out after old emails resurfaced. Previous hosts have included Billy Crystal, Whoopi Goldberg and Chris Rock.
No further details were forthcoming after the announcement.
Earlier on Tuesday the Academy announced that live television veteran Glenn Weiss will return as show director in what will be his seventh Oscars gig. Producer Will Packer, whose credits include Girls Trip and TV shows like Roots and Uncle Buck, is the show producer.
Last year's pandemic-delayed ceremony took place at the end of April and had three producers – Steven Soderbergh, Jesse Collins and Stacy Sher. They earned praise for staging a show during the pandemic yet privately insiders were irritated.
Of particular annoyance to some industry observers was the decision to announce the best lead actor award at the climax of the show in the traditional best picture slot in the belief the prize might go posthumously to Chadwick Boseman for Ma Rainey's Black Bottom. That backfired when the award went to The Father star Anthony Hopkins, who was at home in Wales and at 83 became the oldest actor to win the Oscar.
The 94th Academy Awards will take place at Dolby Theatre in Hollywood. The nominations will be announced on February 8.