The stop-motion animation written by Céline Sciamma premiered at Cannes in Directors' Fortnight.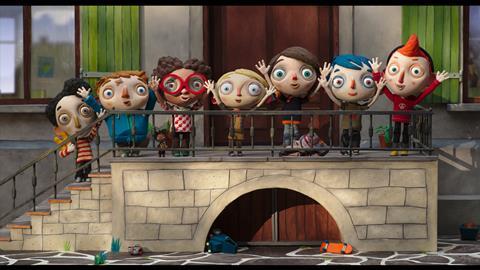 Switzerland has selected Claude Barras' animated feature My LIfe As A Courgette (Ma Vie De Courgette) to compete for the Foreign Language Film Oscar at the 89th Academy Awards in 2017.
The stop-motion feature tells the story of nine-year-old Icare, nicknamed Courgette, who has to find his way in an orphanage after his mother's death and is eventually taken in by a policeman.
It is based on the novel Autobiographie d'une Courgette by Gilles Paris and was adapted for the screen by French screenwriter Céline Sciamma (Girlhood).
It was produced by Rita Productions in co-production with Blue Spirit Production, and is director Barras' first full-length animation film
My LIfe As A Courgette had its world premiere in May at Directors' Fortnight at the Cannes Film Festival.
It won both the Cristal for Best Feature and the Audience Award at the Annecy International Animation Film Festival, and is currently showing at the International Film Festival in Melbourne.
In September, the film will begin its theatrical release in Switzerland (distributed by Praesens Film), followed by France (Gebeka Films) and Belgium (Cineart) in October. Rights for UK/USA and Canada are in negotiation.
The Swiss Oscar Jury statement said: "My LIfe As A Courgette is an original film guided by luminous artistic direction. Its story is packed with emotion, marked by resilience and a hopeful vision of human society. Director Claude Barras and screenwriter Céline Sciamma succeeded in giving children a voice: While addressing children at eye level they still speak to all generations. "
The shortlist of films in the running for the five nominations in the Foreign Language category will be announced in December. The definite Oscar nominations will be published on 24 January 2017, and the ceremony will be held in Los Angeles on February 26.